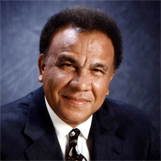 Samuel Betances, PhD
Diversity Consultant, Educator, Sociologist
X
Program Descriptions
The Benefits and Values of Diversity
In this dynamic presentation, Dr. Samuel Betances uses humor to unlock your mind and open it to new ideas and new perceptions. Managers, Supervisors and Leaders will learn how demographic changes are likely to impact the way their organizations must do business today and in the future by focusing on diversity as a bottom-line issue and mission driven initiative, Of particular interest will be Dr. Betances' clarification of how diversity initiatives differ from compliance programs such as Equal Opportunity and Affirmative Action. Come prepared to laugh and learn!

Diversity in America and in the Popular Culture
Here Dr. Betances would discuss the Changing Face of America, the changing demographics that are occurring, and how those are and will impact education now and in the future. He also takes a look at how Diversity is portrayed in the many mediums of the popular Culture. Will Diversity Distract or Add Value to EEO Initiatives in Your Organization?
This presentation will answer this tough question. It will encourage meaningful dialogue and purpose safeguards to ensure that the important work, based on the legal mandates aimed at reducing prejudice and discrimination, not be derailed by any new untested initiative. The differences between EEO/Compliance and Diversity will make clear and practical recommendations on how to avoid putting these two initiatives on a collision course in your organization will be made. The presentation will be engaging, informative, and tied to mission.

From Destructive Contact to Constructive Cooperation
This presentation revolves around the discussion of the article "Status Inequality and Prejudice" which explains the real reason that prejudice occurs. A group exercise based on the stated article allow for interaction and for the participants to realize the true cause of prejudice and the ways to overcome it. The Professional Audit Exercise allows the participants to individually audit themselves about a time they might have witnessed discrimination, stereotypes that others have about their own cultural group and vice versa, groups they feel they need to learn more about, etc.

Sidetracking Diversity: The Games Organizations Play
This topic is the product of the wisdom, knowledge and experience gained in hundreds of corporate and other seminars, training workshops and consulting work Dr. Betances has led in the past decade. Framed in humor, Dr. Betances would show how formal and informal practices in the cultures of organizations frustrate diversity initiatives. Dr. Betances will also identify the best practices to replace dysfunctional ones.

The Benefits and Values of Diversity in Higher Education
A passionate, entertaining, and motivational journey that will provide insight on why diversity is a plus and not a minus in higher education. The quest to sensitize ourselves to the diversity in our colleges and universities and gleam the positives of multiculturalism while pursuing the quest of academic excellence will be examined. Come prepared to laugh and learn!

...And many more!
Why Book Dr. Samuel Betances?


As a biracial, bicultural, and bilingual citizen of the world, Dr. Betances has worked in all fifty states, all six U.S. territories and in various countries including Japan, Korea, Germany and Mexico.


He inspires willing learners to aim high, reject rejection and embrace themselves and each other as powerful team members working toward a more prosperous future.
As a biracial, bicultural, and bilingual citizen of the world, Dr. Betances has worked in all fifty states, all six U.S. territories and in various countries including Japan, Korea, Germany and Mexico. He inspires willing learners to aim high, reject rejection and embrace themselves and each other as powerful team members working toward a more prosperous future.

Decades of university teaching, publishing articles and consultantships with private and public organizations bring to each event a breadth and depth of understanding on how we must make sense of differences. He is passionate about social justice and increasing the cultural competencies of mission-driven teams for educating urban students from poverty to study and to graduate. He is a product of reading and promotes reading to excel, wherever he goes. Dr. Betances challenges and motivates clients in Fortune 500 companies, governmental agencies, community groups, community colleges, universities, lecture series and commencement events. New, non-sexist and balanced systems, which will not benefit any one group at the expense of another, can only emerge when white males and non-traditional groups work together. He brings audiences to their feet in women's issues forums, African-American historical month activities, Hispanic events and celebrations on the legacy of Dr. Martin Luther King, Jr., to name but a few. He challenges negative mindsets with his problem solving methodology and extensive grasp of issues. Dr. Betances has merged eloquence and teaching skills to deliver his powerful message with conviction: "It matters less where we are from; what really matters is where we are going. Accept our diversity. Embrace it. Make it work for you. Harness the rainbow."

This great motivator was not supposed to make it. Out of the bowels of inner city poverty, stigma of minority group status, violence, welfare and illiteracy in two languages, he arose. With strong spiritual convictions and a passion for reading, Samuel Betances has taken the hard lessons from the mean streets of life and reshaped them into his personal vision. He embarked on a journey from dropping out of school to a Doctorate from Harvard University. Today, America's foremost communicator on the challenge of casting away barriers to success is an honored Professor Emeritus, a consultant to U.S. Presidents, CEOs, managers, community groups, clergy members, educators, and a role model for youth. His book Ten Steps to the Head of the Class: A Challenge for Students is in its fourth printing. His new book: Winning the Future through Education: One Step at a Time provides students and their educators a road map for academic success.

Dr. Betances is a superb workshop leader. His style is to guide a highly interactive, inclusive, fun and spirited search for solutions. Sessions are customized to fit clients' needs. Group exercises and interventions are geared at removing the formal and informal barriers which impede the goals of the organization.

His success at bringing cultures together has earned him many awards. Much more than a lecturer, Dr. Betances works to help others learn the importance of pulling cultures together as a way of bringing America back to the top in education, business, and society in general. As he puts it, "Our mission is to make America stronger, healthier and freer than when we found her."