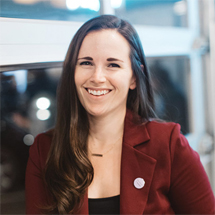 Sarah Moshman
Emmy Award-winning Documentary Filmmaker, TV Producer & TEDx Speaker
Traveling From
California
X
Program Descriptions
Being Bold and Naïve
Born and raised in Evanston, Illinois –Sarah takes us through how her love of filmmaking began and how the camera gave her a voice and a courage she hadn't discovered yet. Sarah took her passions to film school, moved out to Los Angeles and landed her very first job on the hit ABC show Dancing with the Stars. And although the job had its perks –20 million viewers, a slew of celebrity talent to work with –Sarah felt like something was missing in her career and in her life. She set out to pursue her dream of making documentary films that can uplift, inform and inspire.

Sarah recounts her experience of making her first film –The Empowerment Project–which shines a light on extraordinary women across the US, from a Pilot, to a mathematician, athlete, astronaut, four-star admiral, and many more. With humor and authenticity, Sarah shares the stories of these incredible women as well as shares clips from her films to truly immerse the audience in these stories.

Sarah then takes us through the once in-a lifetime journey of her second filmLosing Sight of Shorewhich follows the unbelievable true story of four brave women who set out to row across the Pacific Ocean –from America to Australia, over 8,000 miles! She explains how much of a risk she took in the making of the film as well as the extreme dangers the crew faced on the voyage across the sea. Ultimately Sarah's wildest dream came true –she sold the film to Netflix worldwide and today the film can be seen in over 190 countries.

With a unique mix of anentrepreneurial spirit, a drive to change the way the world perceives women -Sarah entertains, enlightens and encourages the crowd to live their best lives.

Partial List of Takeaways:
We are all extraordinary –we just have to unleash our potential.
It is so important to share our experiences and our stories –our voices matter.
You can never cross the ocean without the courage to lose sight of the shore –leaving a comfort zone in pursuit of a better version of ourselves.
We have the power to change our media landscape –with our dollar, with our remote, we are more powerful than we could ever know.
Everyone will feel inspired and empowered by the end of this talk!
Why book Sarah Moshman?
Sarah tells stories that inspire people, using the power of cinema to create change.


Sarah's mission and message is about being bold enough to leave our comfort zones and having the courage to tell our stories - and the impact that can have worldwide.


Sarah's message is we all have the power to change our media landscape – with our dollar, with our remote, we are more powerful than we could ever know.
Sarah Moshman is an Emmy Award-winning documentary filmmaker and TEDx speaker whose work has been featured on Upworthy, Marie Claire, CNN, and Good Morning America.

Sarah has worked behind the camera on hits shows like Dancing with the Stars, Top Chef Masters, Minute to Win IT and more.

After directing two short documentaries about female empowerment in young women, (Girls Rock! Chicago (2010) and Growing up Strong: Girls on the Run (2012)) she set out to direct her first feature doc The Empowerment Project: Ordinary Women Doing Extraordinary Things (2014) which has been screened over 700 times around the US and around the world in schools, groups, organizations and corporations starting conversations about gender equality. With Indieflix as the distributor, the film has been sponsored by major brands like Nordstrom, American Girl and Microsoft to spread this message far and wide.

Sarah's second feature doc, Losing Sight of Shore follows the incredible journey of four women who rowed across the Pacific Ocean. The film was released globally in 190 countries on Netflix in May 2017.

Next up she's making a documentary examining sexual harassment in the workplace entitled NEVERTHELESS. Sarah is dedicated to telling stories that uplift, inform and inspire as well as showcasing strong role models on screen and in life!

What is YOUR story?!