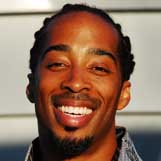 Sekou Andrews
Motivational Poet & Strategic Presenter
Traveling From
California
X
Program Descriptions
D.i.Y. INNOVATION
"Innovation is the difference between 'Why didn't I think of that?' and 'Why didn't I think LIKE that?'" As businesses scurry in pursuit of "big I" Innovation – exponential technologies, cultures of innovation, and the like - Sekou teaches leaders to see through the "little i's" of an innovator, by innovating from within. Offering incredibly fresh perspectives on embracing failure, bold thinking and anticipating disruption, Sekou also shares his own story about the risks and rewards of disrupting the speaking industry with a cutting-edge style of communication. This insightful and inspiring talk often surprises leaders with how much it discomforts, delights, and transforms them on a business and personal level. No doubt why it is Sekou's most requested keynote across industries – from tech and healthcare, to finance and human resources.

THE SCIENCE OF WAVE MAKING
"Your creativity holds the power to cure your own gravity." Big ideas and bold thinking are not traits exclusive to pioneering leaders. They have been lying dormant within each of us since childhood, waiting to be reignited. This speech is the spark that rekindles your access to the imagination and creativity required to stir the waters and make waves in your industry. Inspired by hilarious grade school theories on how waves are made, Sekou delivers a highly inspiring and informative keynote on why leaders must challenge convention to make transformational change. Sharing pivotal moments and insights from barrier- breaking companies and individuals, Sekou shows leaders how to spark the big ideas that make a big splash.

MASTERING THE DIGITAL DISRUPTION DANCE FLOOR
Have you heard of the new dance? It's not the Macarena or the Wobble. Not the Whip or the Nae Nae. It's the 3D – The Digital Disruption Dance. The Technology Tango. The Cyber Salsa. And all the cool kids are doing it. So all of the competitive companies must learn it. Your choreographer, Sekou Andrews, delivers a roller-coaster presentation unlike anything you've experienced. It not only speaks to the impact of disruption on businesses... it embodies it! Just when your audience thinks they know where the talk is going, it turns on a dime, while offering valuable insight from the voices of consumers, millenials, and digital natives who explain how you should approach them when asking for a dance. Sekou's clever, quick paced choreography takes you on a journey from cacophony to clarity, as he inspires you to learn disruption's rhythms and catch its groove so that you can not only keep up... you can take lead!

BE VOICEFUL! HOW TO BE MIGHTY ON ANY STAGE
"Your vision is only as powerful as your voice." Sekou has built a successful speaking career having never been trained as a speaker. It is his training as a performer that makes him stand out as rockstar in the speaking world. So this fun and interactive keynote reminds leaders that sometimes you must learn from outside of your industry to stand out within your industry. Stage Might is Sekou's highly effective training system that teaches rockstar secrets to public speakers, influencers and leaders by applying the proven techniques of performers (songwriters, comedians, actors, dancers, improv artists) to business communications.

SUCCESS THROUGH STORYTELLING
"As an influencer, it is your success with stories that will tell your story of success." Storytelling is transforming how innovative companies market themselves, engage customers and reinvent their businesses. Sekou has helped diverse divisions – from sales and marketing, to fund-raising and tech – understand how to use strategic storytelling to reach consumers, employees and leadership on a human level. Pulling key material from his "Insist On Story" corporate training, this speech is rich with actionable insight delivered through Sekou's creative, experiential style of storytelling.

HOW TO LIGHT FIRES WITH YOUR VOICE
For pioneers and innovators, the journey to success often begins in uncertainty, mystery, and darkness. So, too, begins the opening of this highly dramatic speech, with Sekou's voice resonating through a completely dark room as he speaks about facing your darkness, blazing your own trail, and making your own light. Suddenly, a beam of light strikes him sitting in the audience, and he continues an inspirational story of finding his voice and igniting purpose in others to help them shine. As the story's journey progresses through captivating moments of darkness and light, so does his journey through the room, stepping into pockets of light in the aisles, and ultimately onto a stage that only lights up once he leaps onto it with a throat coated in kerosene that turns attendees into a bonfire of passion, hope and personal growth.

SUCCESS JUNKIE
"We don't know how to spell 'end' or 'say when' or do anything else but win... Win... WIN!!!" If you want to celebrate, or want to create, a culture of winners, hustlers, and go-getters in your community, then 'Success Junkie' will rock your audience. Set in the world of a support group for success addicts, this rousing, edgy and hilarious speech will celebrate your ambition, improve your self-care, and inspire your excellence. Rich with strategic insight on storytelling, shifting perspective, and the winner's mind set, Sekou teaches you how to own your story so that you rewrite your ending and create the kind of success that is unending.

SELF-MADE SUCCESS
"Being self-made means being help-made, from helpmates who help make your self-made success each day." If you know what it's like to be an Executive Director / IP Protector / past-due-invoice collector; or a parent of 3 getting your degree while working full time; or any type of proverbial "Jack/Jill-of-all-trades... then this speech celebrates you. Every entrepreneur, business owner or successful businessperson knows too well, the dichotomy of feeling alone while building your dream while being surrounded by the people who have helped you build it. So this speech helps you become a leader that grows from, and celebrates, everyone whose fingerprints are found on your success.

THE PRINCIPLES OF PRE-SUCCESS (SUCCESSFUL FAILURE)
"Failure is pre-success." Sekou takes an unconventional and unflinching approach to the topic of success, by spending most of this presentation on failure. Not just the popular business concepts like "failing forward", but the uncomfortable, vulnerable, human side of failure. In true poetic voice form, this speech is simultaneously inspiring, educational, and incredibly moving as Sekou reminds audiences that within community, shared stories, and the power of perspective, lie the lessons of how to fail effectively in order to succeed perpetually. They say "When one door closes, another opens. But until then... it's hell in the hallway!" This inspirational talk helps propel those in the hallway to their next success.

LOVE AFFAIR WITH HEALTHCARE
"Every trembling bone in my body is comforted each time she adds a bit of "treat" to my treatment... with care that covers the enrichment of my life, not merely the postponement of my death." What if you could remind your audience of the moment they fell in love with healthcare? What if you could reignite the passion in providers – caregivers, executives and housekeeping alike - to connect with patients on a human, heartfelt level? What if you could take your entire healthcare community on a laughter and tear-filled journey that renews their vows to provide the best quality care. If you could do that - write a love poem to healthcare that makes your audience fall back in love with it - this keynote is how it would sound.

THE PINKY PROMISE OF CARE
"You made me an UNspoken but UNmistakably UNderstood pinky promise when I was admitted into your care..." The provision of quality healthcare is a beautiful topic. Patient safety and medical error?... not so much. So Sekou transforms this important and challenging issue into a roller coaster ride of laughter, tears and insight that holds every team member accountable for keeping patients safe. The fact that this speech consistently leaves audiences carrying Sekou's "Pinky Promise Pledge" back to their facilities, pinning it on their walls, and sharing it with their teams is proof of how poetic voice can turn the un-sexiest of topics into powerful anthems.

NET HEALTH ASSESSMENT
"Your net wealth is not the best test for self- worth / The true measure of wealth is the score of your Net Health" It's not that we don't know what to do to be healthy, we just don't always behave. So how do you change behavior in your community, your company or your personal life to cash in on the wealth that life offers? This speech uses a beautiful, brilliantly simple metaphor to compare the ways we calculate our wealth to the ways we can calculate our health, in order to increase productivity, extend mortality, and heighten vitality. No wonder it has been presented at Fortune 50 companies and leading health conferences, as well as used in graduate school curriculums to explore behavior change in an engaging and edu- taining way.

THE END OF (SICK) DAYS
"We are losing the fight against the most vicious enemy healthcare has ever known ... zombies." Sekou bodly takes on prevention, workplace productivity, and preventive care with another unexpected yet surprisingly effective metaphor for a speech. Playing the character of a top general in the war against "workplace zombies", he takes you through the fictional (or is it?) story of how the Sick Day Virus was spread, chronic disease was cured and human productivity was restored through prevention, technology, and purpose driven self-care. You will never think of zombies, paid-time-off, or healthcare the same way again!

GIMME A BEAT! (HEART DISEASE)
"My grandmother was murdered... by a broken heart." Heart disease is the leading cause of death in the U.S. Having lost many of his family members to it, Sekou knows this as well as anyone. So in this incredibly moving presentation, Sekou makes a plea to the cardiac community to join forces and find the missing beat that left his grandmother, uncles, aunts... and his father victim to the serial killer called heart disease. It celebrates the work of the healthcare providers, charges them to collaborate and innovate, and inspires them to new possibilities. Rich with emotional stories, industry data, and fun audience participation, this heartfelt and hilarious speech is a powerful addition to any conference or fundraiser that wants to bring a "wow factor" to the stage.

THE 5 STAGES OF THE CURE (CANCER)
"By the time we're done rebranding cancer, the threat of the "Big C" will be as benign as a cavity." Pharma breakthroughs, personalized medicine, crowd sourced data, environmental health, preventive mobile tech ... oh my! As healthcare soldiers battle against cancer on every front, this speech re-grounds them in the possibility and purpose behind their important work. With poignant moments of beauty, science and humor, Sekou steps into the future to take your audience on the semi-fictional, 5-stage journey that ultimately leads to cure. He explores bold concepts like "re-branding cancer", "meaningful matter", and the power within the cancer community, all while celebrating and inspiring them with a hope-filled vision of the future. Just as there is likely no one who has gone personally untouched by this disease, there is no audience that has gone unmoved by this speech. It is the perfect closing experience for the day, or the event.

THE CURRENCY OF PURPOSE
"What if we repurpose our work differently today? Put some purpose in our profit, some MLK in our Labor Day?" Do you know the "purpose currency" of your employees or your community? Sekou challenges your audience to explore and engage the meaning beyond money that helps people profit in purpose. By the end of this playful presentation, Sekou will have played patty cake with the audience, initiated duck duck goose, and invited them to join in naked twister, as engaging reminders that connection is necessary, money is personal, and to humanize your business, "you have to undress ... take your acronyms, degrees, and titles / strip them from your chest."

NEW MONEY
"True wealth is not defined by whether I can pay for it, but whether I can pay it forward." This speech, in various forms, has been shared with diverse audiences – from TEDx Wallstreet, to Conscious Capitalism, to the GAP. Its edgy message dances at the crossroads between the discomfort needed to compel change, and the inspiration needed to ignite possibility. Beginning with the discomforting declaration "This year, it's about the money!", Sekou embarks upon a 5-step journey of redefining wealth – moving from the most self-serving definitions to the most holistic. Remind your attendees to invest in themselves and their communities, and "make dollars that make change."

THE AUDACITY OF WHAT IF?
"What if Business came to us for Human lessons? What would we teach it?" As TED Talks, consumer centrism and storytelling trend in business, industries are getting in touch with their humanity now more than ever. With over 15 years of speaking and consulting for global organizations on how to humanize messaging and galvanize communities, Sekou shares his diverse practices and concepts that help leaders with this charge. Spoiler alert: It begins with you having the audacity to ask... "What if there is a better way?" This speech teems with the kind of strategy and emotion that leaves even the stodgiest of audiences simultaneously swelling with valuable insight... and tears.

PLAY TO PAY
"The future of payments is no longer just pay to play, it is PLAY to pay." Leaders in the Payments industry who may be buried in the strategies and technological disruptions driving their future, must also remember to pause and bask in how that future will look. Lucky for them, the world's leading poetic voice has time-traveled back to the past to give them a first-hand look at how they will revolutionize payments. Sekou's futuristic character reminds the audience that their conquering of block chains, biometrics, and security breakthroughs came only when business leaders, tech innovators, policy makers and entrepreneurs learned to collaborate and play together. Based on his years of research with leading banks, credit card companies, payment processors, FinTech brands, credit unions, and other financial organizations, combined with his unique ability to transform tech information into delightful inspiration, this fun, quirky presentation is a perfect opener for commerce-related events.
Why Book Sekou Andrews?


As the world's leading poetic voice, Sekou creates personalized poetic presentations that give voice to the messages and missions of organizations and help them tell their most powerful stories.
Sekou Andrews is the world's leading Poetic Voice – a presenter/performer who is disrupting the speaking industry in unprecedented ways. A school teacher turned actor, musician, two- time national poetry slam champion, entrepreneur, and now award-winning poetic voice, any given day may now find Sekou keynoting at a leadership conference, helping a Fortune 500 company with brand messaging or even performing pieces for Barack Obama in Oprah's backyard. Sekou is the creator of Poetic Voice – a new, cutting-edge speaking category that seamlessly fuses inspirational speaking with spoken word poetry to make messages more moving and memorable. His dynamic blend of strategic storytelling, business insight, spoken word, theater and comedy turns events into experiences, and transforms audiences of informed receivers into enrolled responders.

It is no surprise that Forbes has called Sekou "the de facto poet laureate of corporate America." His "wow-factor" is in high demand with the world's most successful organizations, including Google, Viacom, Toyota, Nike, Cisco, Linkedin, Global Green, Paypal, ASAE, The Gap, Paypal, General Mills, TEDx, YPO, Capital One, L'Oreal, Autodesk, ACLU, Intuit, and the NBA to name but a few. Sekou's work has also been featured on such diverse national media outlets as ABC World News, MSNBC, HBO, Good Morning America, Showtime, MTV and BET, and he has given private performances for such prominent individuals as Maya Angelou, Quincy Jones, Larry King, Hillary Clinton, Norman Lear, Sean "Diddy" Combs, and Coretta Scott King and family. Sekou has also emerged as an inspiring voice for health and wellness, routinely evoking tears, cheers, and standing ovations at events for clients such as Johnson & Johnson, United Healthcare, Mayo Clinic, Blue Shield, Kaiser Permanente, TEDMED, Roche, Genentech, and the American Nurses Association. Sekou has now returned to the classroom, teaching his rockstar secrets to public speakers through his highly effective Stage MightTM speaker training system, that helps executives, influencers and leaders become more dynamic communicators.

Sekou is a multi-talented entertainer with over 2 decades of experience rocking audiences across platforms and genres. As a recording artist and producer, his last album, "Poetic License," made him the most awarded artist in the nation's largest independent music organization. Sekou has shared the stage with such heavyweights as Stevie Wonder, Jay-Z, Carlos Santana, Kendrick Lamar, Maroon 5, Jill Scott and John Legend. He is also a successful voiceover artist and actor with several national commercials, 3 feature films, and an original, critically acclaimed two-man play on his resume. When teamed up with creative partner Steve Connell, Sekou has inspired audiences from the HBO US Comedy Arts Festival to The Pasadena Pops Orchestra. With all of the innovation and inspiration that is poetic voice, Sekou Andrews is accomplishing the seemingly impossible – bringing spoken word poetry to the world's largest stages, while redefining the notion of what a speaker is, and what a poet can be.