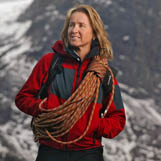 Sharon Wood
First North American Woman to Summit Mt. Everest
Traveling From
Alberta, Canada
X
Program Descriptions
"Everest: Insights from a higher ground"
Sharon Wood teaches, entertains and inspires with her personal story about reaching the top of Mount Everest. Stunning still images and video illustrate the journey of a small team who shared a bold vision to climb the highest mountain in the world by a more difficult route and with fewer physical and financial resources.

Her story powerfully demonstrates how exemplary teamwork and leadership can render the impossible possible. Sharon effectively conveys both the individual and the team perspective by stressing the importance of honoring her own passion and dreams while fulfilling a role as a member of a team - a team committed to a shared vision.

Sharon's style is personal and moving. She uses powerful anecdotes and vivid analogies to convey the elements that parallel the challenges of striving individuals and organizations. Sharon's authentic, humorous and honest approach evokes listeners to consider the value of their own resources and opportunities.

"To the Summit and Beyond" is more than an adventure story - it is a timeless, universal story about the triumph of the human spirit over adversity. For anyone wanting to be more effective in his or her work or life, Sharon's story is a powerful inspiration.

Each presentation is tailored to the focus and timelines of the audience.
Why Book Sharon Wood?


She is an icon of human achievement and a powerful motivator who inspires audiences with her story of climbing Mount Everest.
Twenty years of speaking to diverse audiences enables Sharon to articulate insightful parallels in performing in environments of adversity, challenge and change.
Sharon's story is not about extraordinary people - her story is about the extraordinary that exists in every individual and team.
Mount Everest was a culmination of an odyssey that began at age twelve when her father took her up her first mountain. By the time she was seventeen she was devoting all her time to climbing. Laurie Skreslet met Sharon Wood at Outward Bound and knew she was out of the ordinary. "It was obvious to me the moment I saw her that she was committed, grounded, determined, focused, persevering…overflowing with potential."

Her first break came in 1977 when she joined an all womens expedition to Mount Logan. Then in 1983 she had her first big success with the Cassin Ridge on Mount Mckinley which "really changed my attitude. I didn't see myself so much as a woman but as a climbing partner. I came back with a lot of confidence." Expeditions to Makalu (1984), the south face of Aconcagua (1984) and the northeast face of Huascaran Sur (1985) followed. By 1986 she realized that she was "…ready for anything." Her ascent of Mount Everest by the difficult west ridge and north face was first for a North American woman, but as her friend Albi Sole recalled, "It's not because she was a woman that she got to the top, it's because she was the right person for the job."

After Everest she had moved on to other adventures. Much in demand as a public speaker, she travels North America sharing her experiences and her approach to risk. In 1988 she married and is now raising a family. Much of her time nowadays is taken up organizing a private school she started in her home town of Canmore, Alberta. In 1997 Sharon received the Summit of Excellence Award at the Banff Mountain Film Festival.

Sharon explained her motives in a recent interview. "The constants that I have strived to maintain through all of these things is …the steep learning curve, the intensity, perhaps a certain degree of risk….and tremendous adventure…and that ongoing, never ending quest for self knowledge."