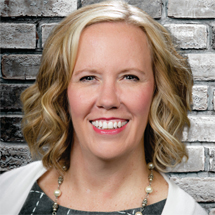 Shawna Suckow
The Buyer Insider
X
Program Descriptions
Don't Become Extinct! Join the Sales Evolution
Welcome to the era of Relationship Marketing! Consumers all over the world are evolving and changing, and American B2B buyers are particularly different than they were just a few years ago. Following the recession, buyers changed how they behave, how they prefer you to connect with them, and how they make their buying decisions. The days of cold calling are over, and buyers don't respond to email anymore. They're using technology and procurement processes more and more to lock you out of their sales process. The traditional sales role is dying. What's a salesperson supposed to do?

How to be More Memorable in Marketing
There's never been a time where our culture has been more saturated with marketing messages from every angle, every minute of the day. Translation: there's never been a more challenging time for brands trying to get consumers to focus on their marketing efforts. As consumers, we've all grown savvier about blocking and ignoring what we deem to be irrelevant messaging, and we've grown intolerant with interruption marketing. How can you break through this cluttered marketing landscape to get the attention of your desired audience? This session will reveal research that shows what's working, and what's not. By looking through the lens of your desired customers through recent research, you'll get a fresh perspective on how to approach your marketing challenges. This eye-opening session will leave you with five fresh ways to rethink your marketing strategy.

Trend Watch 2019: Consumer Behavior Insights
There's one constant in in consumer behavior: Change! We've never experienced more change in how people buy than in the last five years. Keeping on top of what consumers want is more of a challenge than ever. Technology constantly evolves, buying habits continuously confound, and frustration is commonplace with sales and marketing teams trying to stay relevant. Whether you're a large or small company, customer acquisition and retention is key. There's no doubt that there are major and minor shifts in B2B and B2C consumer behavior that will impact your business in the year ahead. Through revealing research and case studies, Shawna will unveil insights that will help you empower your team to have their best year ever.
Why Book Shawna Suckow?
Shawna is the ONLY sales speaker who brings insider knowledge from 20 years on the B2B buyer side. She reveals what motivates today's buyers, and helps businesses navigate the new buyer landscape.
Hi, I'm Shawna Suckow, and here's some inside info on me. I'm a speaker and emcee with some serious knowledge of consumer behavior. My style has been described as a gentle slap in the face from a friend, just when you're about to go to Prom with that loser. Like thinking cabbage is for dinner, but instead you get mac n' cheese (the awesome, gooey kind with crumbles). I'm like a BFF laying down some truth talk – you know, the one who tells you when you have a piece of tomato in your teeth. I talk like a real person on stage – not an old-timey, overly-rehearsed robot who delivers the same content in Poughkeepsie and Peru (egads!).

I was a million-dollar B2B buyer in the hospitality industry for over 20 years (translation: I know my shinola). In 2008 I founded an association of B2B buyers, which now has over 2,500 members across North America. I love speaking to the hospitality and tourism industry! I began studying B2B and B2C consumer behavior in earnest (wait, who's Ernest?!) in 2009, and speaking to audiences of salespeople, marketers and retailers across all industries who are frustrated with the shifting marketplace that changes as much as…well, something that changes a LOT. I have written three books, two of which have become best-sellers (can't win 'em all, I guess).

What's all this Ninja Unicorn business? Well, as you can tell, I live out loud, I don't hide my most unique qualities, and I get 'er done. I want every person in my audience to give themselves permission to do the same (I'll write you a permission slip if you need one). Once you stop fitting the corporate mold, great things happen: your prospects see a real, live, breathing, relatable human being, rather than a walking brochure trying to push snake oil. You don't hide your best self from your prospects. Instead, you attract customers who become your ambassadors of awesomeness. You ditch the corporate-speak and salesy nonsense. You crush those quarterly numbers. You become a stand-out. You get 'er done. You've entered the Ninja Unicorn Zone.

What I'm proud of: I've now spoken in 16 countries on 5 continents (c'mon Australia and Antarctica!), helping businesses to understand the ever-evolving customer landscape. I've won some awards and stuff (aw, shucks). My honors include being named to the Global Top 100 Women Business & Tech Speakers, Planners' Favorite Speakers lists of 2014 and 2015, and Top 8 Speakers of 2013 (along with James Earl Jones!).

Three memorable things about me: I played in the World Series of Poker Main Event in 2015. I am so good at parallel parking, I should get a trophy. Due to a freak badminton injury, I now wear one contact lens.

When I'm not on the road: I'm back in Minnesota fighting off snow or gigantic mosquitoes (a.k.a. our two seasons). I live with my husband (a weekend Elvis Impersonator), my two unimpressed teenagers, and my goofy golden retriever named Henry Jones, Jr.