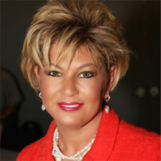 Sherri Elliott-Yeary
Generational & Marketing Guru
X
Program Descriptions
Bridging the Generational Gap
Four distinct generations are working shoulder to shoulder in today's business and nonprofit organizations, each with a unique set of attitudes, values and work styles. It used to be that the "older" workers were bosses and the 'Millennials" took orders. Now, roles are drastically different and the rules of the workplace are being challenged. Organizations are feeling the effects of the generational gaps as they struggle to manage productivity and morale while attempting to maintain high standards of quality and service in the ever changing economy.

Bridging the Generational Gap demonstrates not only why it's important to understand what shaped the generations and why they behave the way they do, but the challenges they face as Millennials enter the workforce with distinct expectations and the Baby Boomer philosophy that Millennials must be just like them if they want to be successful. Learn about Collision Points—areas at work where the generations are bumping up against each other and causing problems.

We discuss how generation gaps hit your bottom line. Learn what to do about the approaching talent gap; understand and implement the keys to retaining the generations you need the most; and discover how to convert this critical form of diversity from an obstacle into an exciting opportunity.

Leadership: How to leverage the unique traits of each generation to build the workforce of the future
Being a leader in today's workplace is more complicated than ever before. Leaders are being required to increase greater employee diversity, factors such as rapidly changing technology, an uncertain economy, mergers, closings, and layoffs have made today's workplace more challenging than in the past.

Leadership is not necessarily determined by one's position on an organization chart or what's on a resume; it is a role they play in their organization, church and community. With all of these various roles constantly changing, being a leader can simply mean being open to change, being reliable and responsible, regardless of their age or position on the corporate ladder.

The attitudes of the generations vary from attitudes about loyalty to staying on the cutting edge of technology; each generation brings unique leadership traits to their workplace. While some organizations are trying to figure out which generation's way of leading is best, when in reality there is no cookie cutter solution, in reality no generation is better or worse, they're just different.

The Generational Guru will help your organization identify the obstacles and opportunities for leadership within each generation and understand the potential impact everyone can make as a leader.

Embracing Millennials
Global businesses are in the early stages of being rocked by the arrival of a new and powerful generation. Who are these kids? Millennials (born 1981 to 2000)—the first generation to rival Baby Boomers in population size—are showing up at work with their own set of expectations, attitudes, and values. Techno-savvy, demanding and ambitious, they're bringing with them an entirely new way of doing business. How prepared are Gen Xers, Baby Boomers and Traditionalists to motivate and manage them?

Embracing Millennials offers strategies for attracting, retaining and motivating this influential generation; they are our future leaders in the new work force. Companies that are forewarned and prepared to make the changes to meet their needs will reap the rewards of the Millennial generation's talents, creative and pragmatic approach to the world of work.

Marketing & Selling Across Generations
The best marketing teams and salespeople have always needed a highly developed arsenal of tools to help them reach potential buyers and connect with customers to improve sales. Now they must embrace and understand each of the generations in today's marketplace, how they differ in their approach and communication style and how their unique talents play a large part in the sales and marketing process. How can you identify the hot buttons of your top sales performers? What messages will appeal to your multi-generational customer base?

These questions and more are addressed in a highly entertaining program that helps energize marketing gurus and salespeople and teaches sure-fire strategies for sharpening your generational edge in the marketing and selling arenas. It shows audiences how generational insights can transform marketing campaigns and sales efforts. Generation gaps are everywhere, and businesses can gain a distinct competitive edge if they get to know who the generations are, what makes them tick, and how to make every generational connection count.

Providing Five Star Customer Service and the Generations
The best in class customer service providers understands what specific customer service requirements mean to each generation. Whether on the phone, online or face-to-face, attitudes and biases can be reflected in what you say and how you say it; common courtesies often are interpreted differently by each generation. Imagine a Millennial nurse walking into a hospital room and asking Susan how she is today, but the problem is that 'Susan" is a Traditionalist and she is immediately offended by the Millennials clear lack of respect by not addressing her as Mrs. Susan Smith? And why doesn't the Millennial nurse turn off that irritating tweeting noise when she is talking to the patient? An organization's strategies must reflect the changing face of a multi- generational customer base.

You will gain a distinct competitive edge by training your staff on the traits of your four generations of customers and tips how to communicate more effectively with each generation to increase collaboration and communication.

Learn through the entertaining and humorous real life stories the Generational Guru shares to help you avoid patronizing behaviors and capitalize on emotional connections to make every customer's experience a positive one.
Sherri Elliott-Yeary is an author, speaker, coach and trainer in the area of Human Resources and Talent Management. Sherri's human resource management experience spans over 20 years where she has consulted with companies of all sizes ranging from start-ups to large global organizations. She has experience in all areas of human resource management including: workforce planning, company culture, training, assessments, HRIS implementation, regulatory compliance, strategic alignment, payroll, compensation and benefit programs. Sherri thrives in start-up and turn-around management environments and experienced in mergers, acquisitions and due diligence preparation.

Sherri's expertise has positively impacted companies worldwide like Nissan Ameritus, Bank of America, Pepsi, Chickasaw Nation, JCPenney, Capital One, CVS/Caremark, Brinker International, Gaylord Entertainment, Medical Center of Plano, Tenet Healthcare, etc.

Sherri graduated from the University of Alberta with a degree in Human Resource Management, and has earned numerous professional certifications, including Senior Professional in Human Resources (SPHR) and Associate designation in Risk Management (ARM). Sherri is an International Coach Federation (ICF) certified executive coach and is certified in many key assessments and instruments including DiSC and Strengths Finder. Sherri possesses a license in group benefits, workers compensation and is an adjunct faculty member supporting Corporate Education programs at the University of Texas at Dallas.

Sherri's publication of "Ties to Tattoos: Turning Generational Differences Into A Competitive Advantage" is endorsed by The Dallas Mavericks and The Society of Human Resource Management Her book established her as the leading voice in an HR movement on the generational differences. Sherri is commonly known as the Generational Guru because of her expertise in helping employees and employers bridge the generation gap to work more productively and achieve a competitive advantage in the marketplace.

Sherri has seen her share of on the job squabbles and learned from experience what works and what doesn't in an era where four distinctly different generations must all work together and get along.

Sherri's second book titled "You Can Have It All, Just Not All At Once" endorsed by Ms. Ebby Halliday is for women everywhere who are striving to have it all. Inside, you'll find the personal stories of lessons learned by the top women executives and entrepreneurs across the country. The contributors have shared stories from their hearts about how they climbed the corporate ladder and balanced family obligations while also overcoming challenging obstacles. You Can Have It All, shares the the intimate secrets of their successes and setbacks on the road to building and living life to the fullest.
Sherri is a member of the International Coach Federation, Texas Diversity Council, American Staffing Association, National Speakers Association (NSA), Women's Foodservice Forum, and WBENC. Sherri has served as an expert on multiple business issues on various radio shows and publications in both Canada and the US.

In addition to consulting on standard HR practices, Mrs. Elliott-Yeary has broken new ground in the HR industry by formulating and applying new strategies for the effective management of a multi-generational workforce. Her unique insight into generational problems in the workplace has made her a sought-after speaker and leader in the HR community. Her innovative consulting techniques and business savvy earned her the title of "Generational Guru."

The publication of Ties to Tattoos established Mrs. Elliott-Yeary as the leading voice in an HR movement which helps companies understand and successfully overcome the challenges of employing a multi-generational workforce. The book examines the profound differences between the four generations in the workplace today and the problems which can arise as a result of generational gaps—including talent retention issues, employee turnover, corporate communication, and sexual harassment claims. Her book has been accepted for national distribution through Barnes and Noble and the Society for Human Resource Management, which has created a flood of interest in Generation Y and the new challenges this group poses for upper level management.

As the Generational Guru, Mrs. Elliott-Yeary also manages a team of experts who help companies overcome standard HR challenges and unleash the performance potential of people, leaders, and organizations. Her consulting firm offers career continuation services, executive development and talent management programs, and age impact preparedness education.

In response to increased interest, Mrs. Elliott-Yeary authored her second book in 2012 titled – You Can Have It All, Just Not All At Once endorsed by Ms. Ebby Halliday.

Mrs. Elliott-Yeary is extensively involved in her community, where she serves on the board of the Methodist Regional Medical Foundation; Build the Bridge Cancer Foundation, Staffing Management Association and the North Dallas Chamber of Commerce. She is a certified coach with ICF, member of NSA speaker's bureau and an active mentor in her community.

Sherri's mission is to reach out and help others by supporting them to achieve their dreams. She has spent considerable time conducting research, writing articles, and making presentations, in addition to mentoring tomorrow's HR stars one-on-one.

The internationally published book: Ties to Tattoos – Turning Generational Differences into A Competitive Advantage has earned Sherri the name "Generational Guru." Word of mouth has propelled Sherri through the recent release of her new book – You Can Have It All, Just Not All At Once! endorsed by Ms. Ebby Halliday. Through it all, Sherri keeps current on changing trends and is still trying to achieve "Life/Work Balance". For a speaker and coach you will enjoy, respect, and long remember, get to know Sherri.