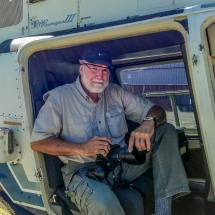 Steve Uzzell
Professional Photographer, Exploration of Creative Problem Solving
X
Program Descriptions
Open Roads Open Minds: An Exploration of Creative Problem Solving

Steve's approach to his photographs work serves as a universal blueprint for problem solving. His audiences not only learn to be open to solutions that can be found in unexpected places, but that preparation lays the groundwork for magic to happen. "Chance favors the prepared mind," said Louis Pasteur. Our eyes see only what our mind is prepared to comprehend.
Why Book Steve Uzzell?


Using his striking photographs as illustrations of his metaphor about possibility and creativity, Steve inspires audiences to take advantage of his experience and vision to make any venture an adventure.
Having started in the photography business over 40 years ago as the assistant to the editor of National Geographic magazine and a member of their photographic staff, Steve Uzzell has continued his love of making images for national and international clients, and has garnered worldwide recognition and won numerous accolades, including ten prestigious Communication Arts awards.

As an inspirational speaker, his travels are also global — in just the past 15 years he has given the presentation that became his book Open Roads Open Minds: An Exploration of Creative Problem Solving to over 540 organizations in all 50 American states, as well as three Canadian provinces and five other countries, including India and China, to a combined audience of more than 600,000 people.