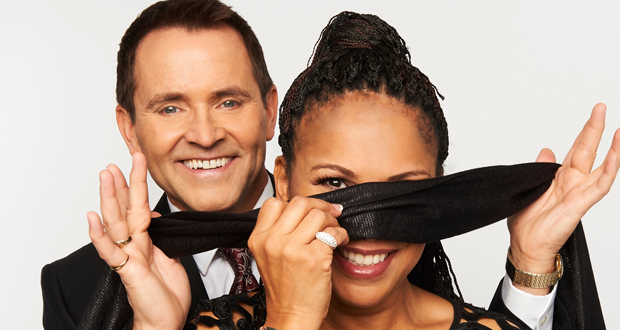 X
Program Descriptions
BRINGING A WHOLE NEW DIMENSION TO THE WORLD OF CORPORATE ENTERTAINMENT!

Find out why the Evasons continuously bring corporate audiences amazement and laughter, making your sales meeting, customer appreciation gala, holiday party, or special event a resounding success!

The Evasons will demonstrate great insights into the mind, all conveyed in an exciting, engaging, and incredibly fun manner!

A UNIQUE INTERACTIVE EXPERIENCE!

Their unique style and extraordinary demonstrations of ESP and Mind Power always receive huge reactions.

How would you like The Evasons to add an element of exclusivity to your corporate event? Bringing People Together…Sharing A Rare Experience!

GET READY FOR PRAISES GALORE!

Corporate fortune 500 entertainment planners, activities directors, and entertainment producers love this accomplished, always friendly, always professional couple! No booking hassles with prompt follow-up calls.

WHO ELSE WANTS AN EVENT TO REMEMBER?

The Evasons will thrill everyone with up to 70 minutes of audience participation and fun, tailoring a unique presentation for an intimate group or an enthusiastic auditorium!
Award-Winning Entertainers!


100% Corporate-Friendly!


Worldwide Performances!


Major Network TV Appearances!





Why Book the Evasons?
Surprise your guests with celebrity mind reading duo - The Evasons! Experience strong emotional moments, laughter, amazement, and a real sense of connection. You and your guests won't just sit back and watch the show. In no time, everyone will be eagerly participating in interactive mind-blowing feats of Second Sight and telepathy. And don't be surprised if you and those around you react in ways you've never imagined! Tessa's spot-on powers of perception are so captivating, you might gasp with surprise and unleash a spooked-out shriek!

 
Amaze, enchant and motivate your group with The World's Foremost Mind Reading Duo! During the early 19th century, a small number of married couples gained significant notoriety with performances called Second Sight. The Evasons are one of very few couples in history who have mastered this unusual talent. For over 30 years, they continue to travel around the globe and carry on this rare and mysterious tradition.

When you see the Evasons, you'll understand why Penn & Teller said: "The kind of mental gymnastics that are done on this are unbelievable. This is one of those rare acts where the more you know about it, the more amazing it is. This act is so good - we've never seen better!"

The Evasons have appeared on NBC, CBS, FOX, Discovery Channel, and on Penn & Teller's international primetime TV show, Fool Us. They've traveled to over 35 countries to appear at private parties, corporate meetings, gala banquets, entertain troops overseas and headline cruise ships and casino showrooms. They are the only mentalists in history to perform at an NBA halftime show before 18,000 people!

They've appeared at the world-famous Comedy and Magic Club in Hermosa Beach, the Great American Comedy Festival at the Johnny Carson Theatre in Nebraska, and they've headlined at the prestigious Magic Castle in Hollywood. They're also known for their $100,000 pledge to anyone who can prove they use audience stooges or secret communication devices such as hidden earpieces, microphones or cameras!

The Evasons have been honored with some of the top awards in their field. They are the first mentalists in history to receive the esteemed Milbourne Christopher Award from the Society of American Magicians (past recipients include David Copperfield, Doug Henning and Siegfried & Roy). They were awarded the highest honor for distinguished professionalism by the Psychic Entertainers Association. They are the only mentalists ever to receive the "SARMOTI Award" which legendary magicians Siegfried Roy present to their favorite act in Las Vegas. They've also been nominated for Stage Entertainers of the Year by the Academy of Magical Arts in Los Angeles.

The Evasons' interactive show is not only extremely entertaining and engaging, it challenges and motivates people to open up their minds to new possibilities. Jeff & Tessa can easily integrate business messages and ideas based on focus, teamwork, synergy, multi-tasking, time management, intuition, self confidence, memory, diversity and communication.