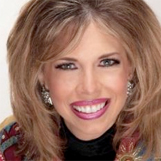 The Magic of Lyn
America's Top Female Illusionist
Traveling From
Massachusetts
X
Program Descriptions
Magic shows with state-of-the-art sound and lighting - Appropriate for any audience
Why Book The Magic of Lyn?


As a master illusionist, Lyn takes entertainment to another level wherever she stages her powerful brand of mystery and illusion in her exhilarating show guaranteed to astound any audience.
Lyn has been deemed America's premier female illusionist by the Society of American Magicians with her stunning array of astounding illusions.
For 20 years Lyn Dillies has thrilled audiences with incredible illusions such as Metamorphosis, The Window, Human Diffusion, The Twister, just to name a few. But illusion is only half of the magic of The Magic of Lyn. The lady herself is the other half. From the moment she first appears on stage, Lyn Dillies puts the audience on the edge of their seats and in the palm of her hand. This slender blonde banters and dazzles her way into the hearts of all who witness her Houdiniesque feats.

Lyn has made frequent appearances on TV and has shared the stage with notables such as Mikhail Baryshnikov, Crystal Gayle, and Marvin Hamlisch. She has even performed with a live symphony orchestra at Lincoln Center.The Magic of Lyn is a show that is as versatile as it is spectacular.

A self-contained 'Vegas' production, Lyn provides her own state-of-the-art sound and lighting. The show can be tailored to any audience, from all-kids to a general audience to a group of engineers. Finally, the show is flexible enough to be a rousing 20-minute opening act or a full one-hour-and-fifteen-minute headliner.