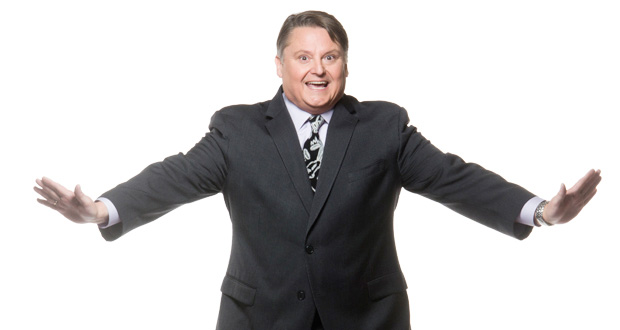 Tim Gard
Comic Vision, Stress Reduction through Humor
X
Program Descriptions
Developing a Comic Vision
Tim Gard offers his powerfully humorous approach to stress-diffusion, proven effective in both professional and personal encounters!

Leadership . . .The Tao of Humor
This full or half-day workshop provides participants with a fresh approach to stress reduction through Tim's techniques. They encourage teamwork, personal accountability and good-humor characteristics.

Secrets of Choosing and Using Props
In this full or half-day workshop, Tim shows how to use ordinary items in extraordinary ways and neutralize life's stressors. Participants walk away able to invigorate and motivate themselves.

Laughter Becomes You
"Laughter Becomes You" builds on the foundation provided in "Developing a Comic Vision." This seminar includes more Comic Vision stress busters and enables you to use good humor at work.
Emcee!
Tim's high-energy, infectious smile, ability to quickly connect with any group, and contagious positive attitude is legendary in the professional speaking and emcee industry. It's one of the reasons that 2010Meetings Planner Magazine named him "one of the best event speakers ever seen or heard on stage"!

Tim is an experienced Emcee and Master of Ceremonies in large and small, national and international, events. His participation at your next event can be as simple or in-depth as you require and desire. Tim's extensive experience on-stage can be summarized as:
Introducing other speakers and events or activities throughout a convention.
Segue with short, informative or funny commentary to allow for stage changes, unexpected delays, or audio/visual complications.
Interviewing individuals, or members of a team, on stage for live or broadcasted events.
Working with the event planners to write introductions, consult on scripting, planning optimal synergy for conferences and events with multiple activities, and coordinate how other entertainers, educators or presenters interact with, and complement, each other.
Available on call throughout the day, to fill in and help out, as needed.
Coaching less experienced speakers (or non-professional speakers) to improve their program content, humor, and on-stage delivery.
Why Book Tim Gard?


He is a laugh-out-loud humorist, who teaches people to be more resilient and resourceful, and businesses how to enhance productivity and employee enthusiasm.
His skillful use of ordinary items in extraordinary ways in his programs make him one of the most popular keynote, main stage humorists on the platform today.
Tim Gard, CSP, CPAE, is a nationally recognized authority on stress reduction through humor.
During the last decade, Tim has delivered his entertaining, informative presentations nationally and internationally, speaking to government groups, professional associations, and corporations of every kind. Through his work he expands the understanding of humor skills as stress reduction tools. His development of easy-to-implement techniques has inspired action from publishers, television, and radio talk shows around the world. His methods and techniques are an effective way to deal with, diffuse, and even avoid intensely stressful encounters that can—and often do—occur every day.
After majoring in communications at Flathead Valley Community College and Montana State University in Bozeman, Tim began his career working with the Montana Department of Social and Rehabilitation Services. During this experience, he discovered that his ability (and unstoppable tendency!) to sprinkle non-malicious mischief over office politics in a tense environment was an appreciated antidote to daily pressures. When asked by superiors to develop a training program to assist eligibility workers in managing stress, burnout and the ever-looming threat of compassion fatigue, he knew that sharing his own good humor was the most powerful and productive way to contribute.
After locating to Denver, Colorado in 1994 to join the staff of USDA's Food and Nutrition Service, the enormous calling from his peers and superiors for consulting and training inspired Tim to resign from the federal government, and devote a full-time effort to his seminars and workshops.
Now, more than a decade later, Tim's down-to-earth style and easy manner gains him immediate rapport as he imparts his stress-reducing, success-generating perspective in a highly humorous format. Whether he is helping a group develop a Comic Vision®, or building strong teams through humor, participants enjoy his fun, informative and fast-paced session that keeps them on the edge of their seats! A navy veteran who served tours in San Francisco and aboard the U.S. aircraft carrier Midway in Japan, Tim values the sacrifices, contributions and pressures endured by people who want to make the world a better place for us all, one laugh at a time.
Books

Just Plane Funny