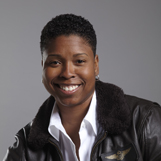 Vernice "FlyGirl" Armour
First African-American Female Combat Pilot
X
Program Descriptions
WHO NEEDS A RUNWAY? TAKE OFF FROM WHERE YOU ARE!
The bottom line is that we have to move into action from where we are! Unfortunately, many people become paralyzed in the process. Decide what you want, put your stake in the ground and execute! Vernice calls this making a commitment to the commitment. Give your organization the boost they need to come together as a team, understand how their objectives support the overall strategy, and accomplish the mission achieving the desired results!

PARTICIPANTS WILL DISCOVER HOW TO:
Elevate the leader inside using the Breakthrough Mentality mindset
Utilize FlyGirl's Flight Plan to harness a "No-Settle" Attitude
Overcome Challenges and Obstacles as individuals and, more importantly, as a team
Get Unstuck from wherever they are, whether they just on-boarded or are in senior leadership
Re-ignite their understanding of how they impact and propel the team...we win together – we lose together
Re-Engage with true purpose and vigor

ZERO TO BREAKTHROUGH
Put passion back in your life and design the path to your dreams with a Breakthrough Mentality! Be inspired by Vernice's personal story of setbacks, challenges, adventure, success and triumph. Vernice takes you on an amazing journey through her life experiences and, most importantly, the lessons learned. Unleash the personal leadership power needed to take your life to the next level!

PARTICIPANTS WILL DISCOVER HOW TO:
How Passion, Purpose & Positive Steps create breakthrough results and shape your destiny
The Tangibility of Possibility
Delay is not Denial and to Retreat does not mean Defeat
How to ignite your spark and make YOUR dreams a reality!

DRIVING DIVERSITY DEEP INTO THE DNA OF YOUR ORGANIZATION!
One Mission, One Goal, One Team!

Vernice reveals, as a former Diversity Officer for Headquarters Marine Corps and liaison to the Pentagon, what it took to help a 200,000 personnel organization get back on track! When you bring people together, you will have differences and similarities that result in tension and complexities...THIS IS NORMAL! How you MANAGE diversity is the key!

The participant will discover how to:
Know your people and harness the power, skills and talents of the team
Unleash the full potential of diversity to impact the bottom line
Effectively tap into the power of the Employee Resource Groups (ERGs)
Teach everyone to be an ambassador for diversity
Create a culture that values and respects all team members: One Mission, One Goal, One Team!

MAKE YOUR GUTSY MOVE WITH CLARITY, COURAGE AND POWER!
IMAGINE, no more struggling on your own to figure it out. If you're tired of settling, you're willing to do the work and you want it given to you straight, then FlyGirl will show you how to get off the tarmac, get into flight and achieve the most challenging goals in your business. If you're sick of being overwhelmed, overworked and underappreciated make an explosive transition to the top by learning her battle-tested business strategies, NOW! Get on the fast track, Get Gutsy and Get Going!

WHEN YOU HANG WITH FLYGIRL YOU WILL DISCOVER:
The precise secrets she relied on to go from knowing NOTHING about being an entrepreneur to earning 6 figures in less than 12 months
How to finally get crystal clear on what you really want and exactly how to get it
3 simple steps to transforming your fear into fuel
The #1 thing you can do to get all the help you need faster than you ever imagined

ONE MISSION. ONE GOAL. ONE TEAM!
We're in a tremendous time of change. Having the clarity, courage and power to truly Engage and lead during this time of transition is key. Get clear about your direction and what success looks like for you AND your team. Are you willing to explore taking the courageous steps towards innovation? Leadership under pressure, innovative execution and utilizing battle-tested best practices will be the keys to your organization accomplishing its goals.

This keynote will focus on:
Overcoming Organizational Challenges and Obstacles by maintaining "One Mission, One Goal, One Team" focus.
Maintaining a Breakthrough Mentality
Employee and Leadership engagement
Innovative thought process
Why Book Vernice Amour?
"Flygirl" is the first African American woman to become an American combat pilot
After accomplishing her own feats and returning to civilian life, Flygirl has dedicated her life to helping others identify and pursue their dreams
Leveraging her "Breakthrough Mentality" and "Get Gutsy" mindset, Vernice "FlyGirl" Armour propelled herself from beat cop to combat pilot in a record-breaking three years and became America's First African American Female Combat Pilot. As featured on CNN, MSNBC, The View, FOX News, Oprah Winfrey and others, FlyGirl's fresh, edgy style, high, contagious energy and unique, gutsy essence jump off the stage, page and screen and moves people to action. Since 2007, she has inspired countless organizations and individuals to make gutsy moves and create breakthrough results.

Commanding corporate, STEM-centric and female executive and entrepreneur audiences across the globe, FlyGirl's most requested keynotes, Zero to Breakthrough,TM One Mission, One Goal, One TeamTM and Get Gutsy. Live Gutsy!,TM deliver messages that resonate: "You have permission to Engage;" "Take off from where you are;" "We win or lose together;" and "In order to succeed you gotta 'Get Gutsy!'"

A Tennessee native and graduate of Middle Tennessee State University, FlyGirl holds two honorary doctorates, was a Diversity Liaison Officer to the Pentagon for Headquarters Marine Corps and is a member of the COMCAST/NBCUniversal Joint Diversity Council. She has received numerous awards as a pioneering pilot, to include her commanding role in Science, Technology, Engineering and Mathematics (STEM). She was the Marine Corps' first African American Female pilot, first African American woman on the Nashville Police Department's motorcycle squad, a Camp Pendleton Female Athlete of the Year and two-time titleholder in their Strongest Warrior Competition, and a running back for the women's pro football team, the San Diego 'Sunfire.'

FlyGirl's first signature book, Zero to Breakthrough,TM was released in 2011.

FlyGirl is married and resides in the Atlanta, GA area. In 2015, she gave birth to "FlyBaby," her gutsiest move yet!
Books

Zero to Breakthrough