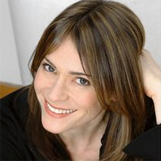 Victoria Labalme
Motivational Humorist
X
Program Descriptions
The Throughline: The Art of Connecting in Business & Life
The Prism Effect: Tap into Your Hidden Talents to Master Communication
Communicating in a Crazy-Busy-Nuts World: Getting Off the Conveyor Belt of Life
Rock The Room: How to Make an Impact Anywhere, Any Time
Why Book Victoria Labaime?
Victoria has revolutionized the keynote with performances that are interactive and high-content
She has years of experience in the television and movie industry
For more than 20 years, Victoria Labalme has been entertaining, educating, and inspiring audiences around the world.

Her unique "Theatrical Keynotes"TM are a dynamic and engaging blend of customized comedy, acting, movement, original witty film clips, and cutting edge commentary. Like nothing you've seen before...and like nothing your audiences have experienced before.

In her interactive, high-content programs, people find themselves laughing, learning, and reconnecting with their co-workers in an entirely new way. Refreshing, fun, and down to earth, Victoria inspires audiences to connect, communicate, and come alive.

A graduate of Stanford University, Victoria brings over 20 years of show biz experience to the corporate world. Her appearances in HBO's "Sex & The City"; film documentaries (directed by Academy Award Nominees); numerous television commercials (including a Super Bowl spot); NBC & Fox news interviews; ABC/Good Morning America's stage; advanced training with the legendary mime Marcel Marceau; and scores of performances at high-profile comedy clubs and theater festivals across the country have provided the toughest test of her talent. Through it all, Victoria has uncovered a rare ability to connect with every audience to open minds and hearts to her message.

You can bet that corporations like Starbucks, Interstate Hotels & Resorts, Chick-fil-A, Administaff, 24 Hour Fitness, General Motors, Bosley, Panasonic, and the NYPD do not assemble their people at major corporate events just to be entertained. In each case they saw in Victoria a talent and a program so unique they knew it would make a sustainable difference to the passion and performance of their people. Without exception, the rewards were almost incalculable.