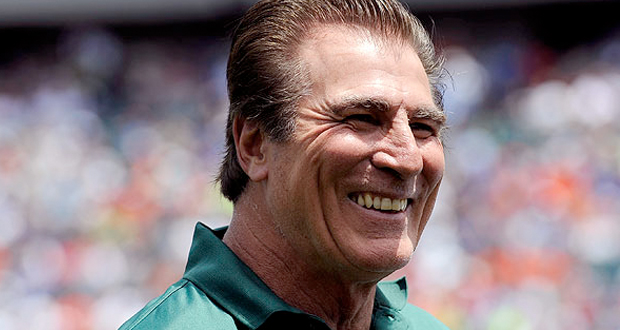 Vince Papale
Inspiration for the Disney Movie "Invincible", Oldest Rookie in NFL History
Traveling From
New Jersey
X
Program Descriptions
Educate Yourself Into the Endzone
Vince skillfully weaves his amazing story, with a nice blend of humor and passion, sharing his playbook for success mixing in education as the main ingredient.

The "Papale Playbook"
In Vince's energetic, enthusiastic, and passionate style, listeners get glimpses of what it took to go from a season ticket holder to Captain of an NFL Team.

Hold Fast to Dreams
Using video clips from Invincible, Disney, and ESPN, Vince, a tremendous story teller, shares his tips on seizing opportunities, overcoming odds, fulfilling potential and taking it to the highest level. His energy, passion and humor will keep the audience on the edge of their seats.

Make Your Teams Special
Successful teacher and coach Vince shares with you his training tips for reaching one's full potential.

From Invisible to Invincible
Now a spokesperson for cancer awareness, Vince wows audiences with his understanding, compassion, and humor when dealing with these life obstacles. From caregiver, to patient, to survivor you will feel ready to tackle any challenge after hearing Vince speak about one of his most passionate causes.
Why Book Vince Papale?


He made the Philadelphia Eagles at age 30 and became the oldest non-kicker rookie in NFL history.
He inspires audiences with his energy, enthusiasm and story of persistence and following your dreams.
Papale's inspirational achievements are depicted in the movie Invincible starring Mark Wahlberg.
A middle school teacher and part-time bartender, Vince Papale left his hometown of Interboro, Pennsylvania in the spring of 1974 to try out for the Philadelphia Bell of the World Football League. He made the team as a wide receiver and played for them for two seasons. In 1976, at the age of 30, Vince tried out for the Philadelphia Eagles, made the team, and became the oldest rookie in the history of the NFL. He still holds that record today. Mr. Papale was with the Eagles for four seasons as a wide receiver and was voted Special Teams Captain by his teammates. A shoulder injury ended his career in 1979. Mr. Papale was voted "Man of the Year" by the Eagles in 1978 for his many charitable activities.

Mr. Papale's athletic prowess was evident in his high school days. A graduate of Interboro High School (1964), he was a three sport Varsity Letter winner senior year in football, basketball & track. He still holds the high school Outdoor Pole Vault record.

Mr. Papale attended St. Joseph's College from 1964 to 1968 and graduated with an MS Degree in Marketing/Management Science. He was awarded a full athletic scholarship for Track and Field. His Senior Year he captained the Track Team and was recipient of the Most Outstanding Senior Athlete.

A movie about Vince Papale called Invincible was released August 25th, 2006. It features Mark Wahlberg as Papale, Greg Kinnear as former Eagles Coach Dick Vermeil, and Elizabeth Banks as Janet. Vince wrote a book, also titled Invincible, about the true story that inspired the Disney motion picture.
Books

Invincible