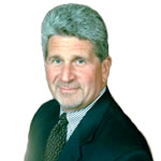 Wally Hauck
Source of Insight for Leaders, Expert in Building Trust & Performance
Traveling From
Connecticut
X
Program Descriptions
The Art of Leading: 3 Strategies for Optimum Productivity and Accountability
Are you constantly feeling stressed because you have to do more with less? Learn how to create a high level of accountability, avoided wasted time and help all employees be more productive.

Getting Serious About Employee Engagement: Strategies to Optimize Talent and Performance Management
High levels of employee engagement correlate to creativity and improved business outcomes. Learn the Five Factors that optimize employee engagement.

Employee Performance the CPIP Way: A Checklist Method to Win the Hearts and Minds of Employees
Are you frustrated with your performance appraisals? Learn how to replace performance appraisals with a New Ground Breaking process called the Complete Performance Improvement Process (CPIP) — Improve motivation, morale, problem solving, productivity, quality, accountability, and leadership competencies all in one.

Team Problem Solving: The Six Thinking Hats
Innovation is critical and also hard to predict. Unless of course you use the Six Thinking Hats process by Edward DeBono. This predictable creative process creates astonishing results with fun and excitment.

Meetings Can Kill (Time): "Waste-Free" Meetings for Leaders
Wasted management time does not show up on a P&L statement yet it is real and expensive. Learn the factors that optimize everyone's time, creates commitment to decisions, and generates increased innovation in meetings.
Why Book Wally Hauck?


He provides information to improve both job performance and personal development to give employees real-time information for personal development.
He provides consistent and immediate information designed to increase the investment in your people by improving their quality of interaction with you.
Wally Hauck, PhD has a cure for the "deadly disease" known as the typical performance appraisal. Wally holds a doctorate in organizational leadership from Warren National University, a Master of Business Administration in finance from Iona College, and a bachelor's degree in philosophy from the University of Pennsylvania.

Wally is a Certified Speaking Professional or CSP. The Certified Speaking Professional (CSP) designation, established in 1980, is the speaking industry's international measure of professional platform skill. CSP is conferred throughout the International Federation for Professional Speakers only on those who have earned it by meeting strict criteria.

For 18 years his consulting firm, Optimum Leadership, has consulted with dozens of organizations and coached hundreds of individuals in improving leadership skills, employee engagement, and performance.

Wally appreciates and embraces Dr. W. Edwards Deming's Theory of Profound Knowledge to assist leaders to develop remove obstacles in the system that block effective performance.

As a professor of Organizational Change and Development at the University of New Haven in Connecticut Wally received the highest ratings of all professors in 2012.