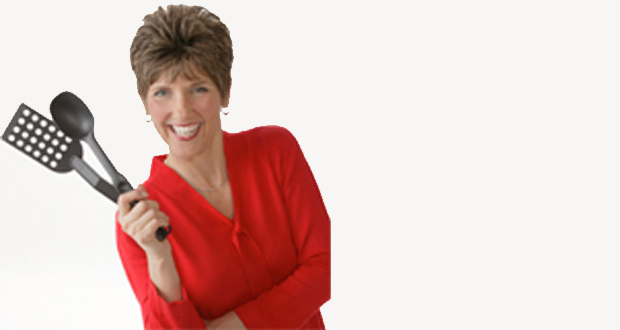 Zonya Foco, RDN
America's Nutrition Leader
X
Program Descriptions
Light Beer and Baked Doritos: Am I Healthy Now?
The way you eat, drink, sleep and exercise fuels a fine racing machine...or NOT. Join Zonya as she shares solutions that re-wire your brain so it craves the best-for-you fuel, making health and energy easy and automatic. It's time to throttle up stamina, productivity, and resistance to disease, with simple yet sound "shop guides" that work for you and your whole team!

Conviction over Convenience: Staying Healthy in a Culture that's ANYTHING BUT!
It's hard to stay healthy in a culture that's anything but! Citing research, health trends and advertising power, Zonya explains how our culture is very much our enemy. Are we doomed or can we fight back? Conviction is key. From eating to exercise, Zonya delivers a compelling plan for embracing a healthy lifestyle "paradigm shift" with conviction over convenience.

The Power of One Good Habit
How can we ditch the diet mentality, yet still eat healthfully to combat obesity, heart disease, type 2 diabetes and cancer? Let America's Nutrition Leader show you how the tiniest, painless habits, when done daily can add up to a huge change in the way you look and feel. Without dieting or deprivation, you can rev up your metabolism, drop your blood pressure, lose 50 pounds or take 50 points off your cholesterol in just one year!

Excelling at Your Career Without Undermining Your Health
With this presentation, you'll get the competitive edge with Zonya's nine-point eating plan for optimal energy and health while you climb the career ladder. Discover desk-drawer delights and briefcase bites that will help trim your waistline while dropping your risk for the big killers like heart disease, cancer and type 2 diabetes. You can be your best possible self at work and at home.

Eating RIGHT On the Run!
Join Zonya as she blasts through the "no time to eat right" roadblock. From the fast food window, to desk drawer delights and even healthy brief case bites, you'll learn about the best speed-feed to keep you energized and focused. Zonya also shares her unique strategy for keeping your kitchen stocked with her top 15 must-haves and her virtually work-free solution for weekly menu planning.

Surefire Solution of De-stressing and Balancing Your Life
When you're ready to get a grip, Zonya will show you how to start by simply letting go. So take a deep breath and get ready to laugh out loud as you learn the restorative power of saying the word "no." If, on the other hand, you have trouble saying "yes" to exercise, Zonya will share her secrets for ways to make working out work for you.

Finding Fitness in You with "E" Harmony
The secret to exercising is to find what you love, not just what you tolerate. It's all a matter of matchmaking your unique personality with just the right exercise activity until you find your true soul mate - E Harmony! Zonya helps you "power date" all kinds of E choices you never knew enough about, like water aerobics, kick boxing, Jazzercise, tai chi, line dancing, arm-chair exercising, and Zumba. Soon you'll begin exercising like never before, and live happily ever after!

Fit Families for Life (For parents and kids!)
Zonya knows it isn't always easy getting kids (or adults for that matter) to eat healthy and exercise well. She also believes that the fastest way to fight childhood obesity is through parents. Zonya's "Fit Families for Life" presentation is the perfect opportunity for parents and kids to learn together and discover how healthy habits can be a fun family affair.

Get Real with Your Meal! (For middle and high-school students)
What foods help you think faster, run farther and jump higher? How can you learn to love the foods that are good for you and learn to curb your cravings for foods that aren't? It starts with Zonya's zany visuals that help you get real with your meal.

Be Good to Your Sweet Heart (Heart-healthy focus)
Your heart—it beats for you constantly, minute by minute, hour by hour, 
day by day, year by year. Is what you're eating the best it can be for your heart and cardiovascular system? There's so much more to heart health than just low-fat and low-cholesterol food. Get the inside scoop on fish, flax, fiber, garlic, and of course, exercise.

Fight Cancer with Your Fork
What does it take to put your diet 100% on the winning side for fighting cancer? Is it five fruits and vegetables each day or does it take eleven?
Will eating lean meats provide enough armor or do you have go completely vegetarian? What about organics; are they your only choice? And will you really live longer, or will it just seem like it?! Join "America's Nutrition Leader" as Zonya walks you through a realistic and tasty approach for "fighting cancer with your fork" you can enjoy living with.
Why Book Zonya Foco?


Zonya is a master of inspiration, motivation and visual humor, providing hard-facts information and simple solutions that help everyday people improve health, create balance and maximize energy.
She delivers equal parts entertainment and education, helping people laugh at their bad habits and discover the joy in adopting new, healthier habits.
As America's Nutrition Leader, Zonya is a master of inspiration, motivation and visual humor, providing high energy presentations crossed with low maintenance solutions that help everyday people improve health, create balance and maximize energy.

If you're expecting a lecture-style presentation from this "energizer health bunny" – DON'T! Zonya pulls out all the stops in her live presentations, video seminars and TV show - delivering equal parts entertainment and education all the way. Zonya helps people laugh at their bad habits and break down the barriers that turn knowing into doing.

In fact, she has identified eight core habits that create the acronym DIET FREE, published in her co-authored DIET FREE novel, Water with Lemon. In 2010, Zonya launched her DIET FREE video seminar lifestyle program for individuals and worksite wellness programs, and produced the two-hour DIET FREE with Zonya Foco, RD TV program aired on national public television. Zonya has also hosted a weekly television series, Zonya's Health Bites, on national public television.

She collaborated with Health Alliance Plan (HAP) of Michigan to develop and present its distinguished Weight Wise member programs based on her DIET FREE habits. Zonya has also worked with Bob Greene as a guest presenter for "Oprah & Bob's Best Life Challenge," providing entertaining and educational cooking presentations.

Zonya received her bachelor's degree from Eastern Michigan University in 1987 and then worked as a clinical nutritionist for the Michigan Heart and Vascular Institute at St. Joseph Mercy Hospital in Ann Arbor. It is from these clients that she discovered the need for a "countertop coach" cookbook and in 1998 wrote Lickety-Split Meals for Health Conscious People on the Go, filled with easy recipes and healthy tips for everyday families. In 2008, Zonya reworked the recipes and tips and created Lickety-Split Diabetic Meals (published by American Diabetes Association) to help those with diabetes in their quest for a healthier, happier life.

In addition to spreading the word through her speaking platform, books, TV show and wellness program, Zonya has appeared on local newscasts across the country, nationally syndicated daytime talk shows and QVC. She has been published in the popular magazines Prevention, Today's Dietitian, Total Health, and Fast and Healthy Cooking.

Most recently, Zonya has partnered to bring smart nutrition inspiration to individuals, families and worksites through her Eat REAL Cookbook 28-Day Kickstart, Eat REAL for Your Health worksite wellness program and EatRealAmerica.com, which features recipes, tutorials and coaching all focused on real food ingredients.
Books