Though summer moving into full swing, today is the last day of National Great Outdoors month. So we honor the people and families around the country who have been and continue having fun outdoors!
Although most people enjoy these exhilarating experiences for a few days at a time, others have dedicated their lives to pushing themselves to their physical and mental limits — like these 10 speakers! They delight audiences inside with amazing tales of their  outside activities!
1. Robyn Benincasa, world champion adventure racer and World Class Teams founder has been named a CNN Hero while showing others how setting goals and working together can complete the hardest task.
2. World class mountain climber Carlos Buhler has been on over 40 expeditions in nearly 20 countries over his 35-year career. His leadership expertise and team building skills have helped him reach the "peak" of success.
3. Another amazing climber for over 25 years, Steph Davis is the first woman EVER to free climb the Salathe Wall on El Capitan, and the second woman to free climb El Cap in less than a day! As nerve-wracking as these feats would be to an untrained person, Davis has the strength and courage to successfully challenge herself and others.
4. Bestselling author Steve Donahue has traveled 72,000 miles around the world exploring all of what countries have to offer. His heartwarming stories of different cultures working towards a common goal leave audiences inspired and eager to work with one another.
5. Professional snowboard moutaineer Stephen Koch has navigated some of the steepest and most dangerous courses and mountains on Earth. His quick thinking and rapid decision making him an excellent speaker on taking risks and innovation within your organization.
6. While climbing Hinchinbrook Island, Australia's tallest peak, climber Warren MacDonald became trapped in a sudden rock slide for two days before he was rescued. He had both legs amputated at mid thigh. However, despite his new challenges, he continued climbing 10 months after his accident. His story of survival led to him publishing his first book, A Test of Will, and being featured on the Discovery Channel series, "I Shouldn't Be Alive." MacDonald is proof that no matter how tough the situation, there is a way to overcome any obstacle.
7. Dr. Jeff Salz has accomplished so much so little time. He received a doctorate degree in anthropology and has been traveling the world. He conveys to audiences how important it is to try new methods and how to accept and adapt to change. Salz's book, The Way of Adventure: Transforming Your Life and Work with Spirit and Vision, is a bestseller on how to keep your organization fresh and exciting.
8. As founder and president of IntelligentRisking, Inc., Barbara Stoker has dealt with the organizational aspects of leading, strategizing, risk taking, and resolving conflict for over 20 years. She has published many books on business skills and is a true asset to any organization she consults and visits.
9. What has Georgia Pellegrini not done? This television personality, chef, author, and outdoors enthusiast is truly a "modern day pioneer." She has even been compared to lifestyle guru Martha Stewart. Pellegrini is one of the best people to go to for advice on empowerment and hospitality.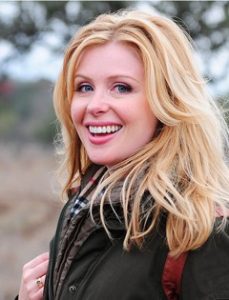 10. Sharon Wood is no stranger to reaching new heights…literally! Wood is the first North American woman to reach the top of Mount Everest. She uses her experience to teach others how to perform under pressure and in uncomfortable environments while remaining composed and focused on the main objective.
For information on booking a keynote speaker for one of your events, check out www.eaglestalent.com or call our office at 1.800.345.5607