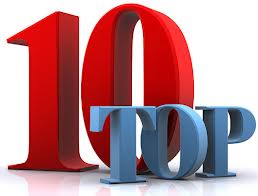 Today is the perfect day to watch our Top 10 Comedic Speakers — our own 'April Fools.'
These comedians will help you prepare for a day of pranks and laughs, and showcase why they are our top picks of quality entertainment you can bring to your next event.
1. Jeff Caldwell
Whether at a comedy club or a corporate event, Jeff Caldwell is a clean, clever comedian who delivers smart, funny jokes on topics ranging from the daily news to the daily grind.
[bitsontherun rZB6ZcQb]
2. Christopher Titus
Christopher Titus jokes about things most comics would find impossible to make funny. Custody battles, insanity, family suicides, heart attacks, and fist fighting his father are all topics to be confronted, not hidden from. Christopher is that most rare of comics in that his material is edgy and pushes the envelope, but still accessible and meaningful to the common audience.
[bitsontherun brc1xG4T]
3. Caroline Rhea
From staring as Aunt Hilda on Sabrina the Teenage Witch, to hosting The Biggest Loser and The Caroline Rhea Show, Caroline Rhea is no stranger to television and film. Her celebrity experience gives her stand-up comedy a smart and spontaneous approach that allows her to entertain a variety of audiences.
[bitsontherun uvIabKUH]
4. Andrew Kennedy
Since 1994 Andrew Kennedy has traveled the world entertaining audiences with his autobiographical comedy that centers on his relationships with his wife, three children and extended family.
[bitsontherun kb10JwDc]
5. Roy Wood, Jr.
Roy Wood, Jr. started his comedy career in 1999 at the age of 19 while attending Florida A&M University. Roy's comedy crosses all races and cultural lines, which has allowed Roy to work with an array of comedians ranging from D.L. Hughley, Ron White, Monique, Tommy Davidson, Bill Engvall, and Sheryl Underwood.
[bitsontherun QHjmYRJa]
6. John Heffron
After winning season two of NBC's Last Comic Standing, Detroit funnyman John Heffron has been on the road non-stop, preforming in comedy clubs, colleges and theaters across the country. Through his travels, John's material has matured and grown with him –- audiences happily join him on the ride.
[bitsontherun YEGxOdEx]
7. Johnny Lampert
Johnny Lampert is considered one of the premier comedians in the country. He is a regular at New York City's and Los Angeles' best comedy clubs including The Comic Strip, Caroline's on Broadway and The Improv. Johnny has also made numerous television appearances on MTV, A&E, NBC, HBO and most recently, Comedy Central.
[bitsontherun ASMWKdFq]
8. Derrick Cameron
Derrick Cameron was a hyperactive, mischievous, hardheaded boy whose parents had no idea what they had just created. Humor was always a part of his life. His father would always cause some havoc at any gathering the family attended. His mother is blessed with the ability to mimic anyone she meets with incredible accuracy. Growing up with funny parents set the foundation for his love of comedy.
[bitsontherun Dfnk1kwY]
9. Paul Nardizzi
Paul Nardizzi is one of the most sought after corporate event comedians on the circuit, and is now one of the top stand up comedians in Boston and the New England Area. He is known nationally for his rapid-fire comedy style, and has provided corporate event entertainment for a wide variety of notable companies over the years. Paul can provide entertainment at corporate events, college campuses, charity events, fundraisers and more.
[bitsontherun 5187f5rn]
10. Mack Dryden
Mack Dryden is a guaranteed hit, as hundreds of thrilled clients will attest. This veteran of The Tonight Show and former staff writer for Politically Incorrect with Bill Maher; creates custom humor for every client. He also inspires with his tales of surviving two battles with cancer, a stay in an African prison, "sharks in showbiz who stab you in the front," and one "near-fatal marriage." Bill spends his time writing and traveling the country bringing his special brand of Motivation, Inspiration and Jubilation to thousands each year. It hasn't been an easy road; but, as he says, "Falling on your face is still moving forward!" As a killer clean comedian or hilarious motivator,
[bitsontherun iiH9uCYe]
—————————————————————————————————————
Interested in bringing one of these speakers to your event?
Go ahead … click the Eagle to get in touch with us.