Team Building keynote speaker Mike Mullane will be featured on The Science Channel's series "Secret Space Escapes," premiering on November 10th at 10 p.m. Building upon his expertise, Mike Mullane shares his wealth of knowledge which he experienced on STS-27…the second mission after the Challenger disaster.
"During the launch of that mission, our heat shield tiles were extensively damaged and we narrowly missed destruction during the 3000 degree reentry (the press release says "5000 degrees", which is an error)," says Mullane. "I've attached some photos of the damage.  After landing, NASA had to replace 700 of the tiles, by far the most serious heat shield damage before Columbia was lost in 2003 due to its heat shield damage."
This television program allows users to catch a glimpse of astronauts exploring outer space, experiencing life threatening challenges and overcoming near death experiences. Through the telling of their first hand accounts, viewers get to ride on the exhilarating roller coaster that is a matter of life and death for these unique individuals.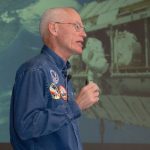 Colonel Mullane uses his near fatal experience to inspire audiences to maintain safety and trust the team around you. His keynote presentations also incorporates stories of his time with his crew and spreads knowledge on teamwork, and the importance of leadership. His message reaches people from all walks of life as he gives unique insight into how not to only explore space, but explore potential in every aspect of life. With missions from Vietnam, to mountain tops and even space, Mike Mullane knows how to touch people in every corner of the universe.
For more information on booking Mike Mullane for one of your events, check out his page on our website or call our office at 1.800.345.5607.