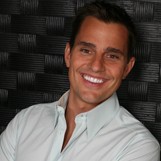 Bill Rancic is a one-of-a-kind inspiring keynote speaker. He's the first winner of Donald Trump's 'The Apprentice', he's a best-selling author (Your Hired, and Beyond the Lemonade Stand), and entrepreneur. Bill has style, charisma, and above all, a lot of business sense.
In this Eagles Talent Podcast episode, host Sheldon Senek talks with Bill Rancic about his time on 'The Apprentice', his current hit Reality TV show, 'Bill and Giuliana', which he does with his wife, and how he has achieved success in business.
[display_podcast]
Bill Rancic is a true American entrepreneur. At the age of 23, he founded the internet-based company, Cigars Around the World, in a 400 sq. ft. studio apartment. Today, it is a thriving multi-million dollar national operation, of which Bill sits on the board of directors. Donald Trump chose Bill to be his right-hand man out of a competitive pool of 250,000 applicants to be crowned the original Apprentice. Bill now motivates and inspires entrepreneurs, sales teams, business professionals and students around the world.
We hope you enjoy the podcast, and please contact Eagles Talent Speakers Bureau if you would like to discuss Bill's availability for an upcoming event.
To Check Availability or Book Bill Rancic:
Call Eagles Talent: 1.800.345.5607
Visit Bill's speaker profile page here.