Bob Woodward Releases New Book:
Bob Woodward, legendary Journalist and Keynote Speaker, has penned his twelfth #1 New York Times Bestseller, "Fear: Trump in the White House", which chronicles the Trump Presidency through a collection of interviews with various members of the administration. President Donald Trump is the latest of nine presidents that Woodward has covered, and, dating all the way back to the Nixon presidency, he is no stranger to the mass amounts of interest as well as scrutiny from all sides of the political spectrum.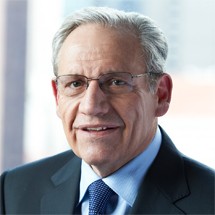 As the recipient of nearly every major American journalism award, including the Pulitzer Prize, Woodward has historically provided deep insight into past presidential administrations, and this book is no different. His self-described goal as a hard hitting political Investigative Reporter is "to secure the best obtainable version of the truth." As a Keynote Speaker, Woodward's speeches are reflective of his writing style–crisp, concise, and a deep consideration for all political views. He doesn't dive into who's right or wrong, rather, Woodward helps us put the current climate into into context.
Through his speaking engagements, Woodward works beyond the Spin in a media-driven world by "pulling back the curtain" on Washington. While at times shocking, his stories provide a balanced insight into the current political landscape. From colleges to corporations, Bob Woodward's political knowledge from decades of investigating the insides of Washington's elite is sure to engage audiences by cutting through the facade of new-age politics in a social media-obsessed world.
---
For speaker fees and availability, email info@eaglestalent.com or call 1.800.345.5607