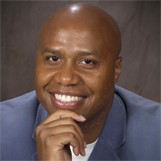 Motivational Speaker Walter Bond was the guest speaker for GAMA International LAMP conference on Wednesday. Not only did his message inspire the attendees, they were able to walk away with real food for thought for improving both personally and professionally.
Walter Bond's program focused on the power of confidence in achieving success.
Here's a few memorable quotes GAMA tweeted during Walter's speech:
"Carve out a niche and own it. When people know, like & trust you they listen to u. Great advice from Walter Bond #LAMP11"
"Stop selling tangible products, sell hopes and dreams. -Walter Bond #LAMP11"
"Differentiate. Be as confident as you can without crossing the line to arrogance. – Walter Bond #LAMP11"
About Walter Bond: Walter Bond wants to rock your business world. A former pro basketball player who calls himself "Mr. Accountability," Bond has a powerful message, forged during his eight-year NBA career, which began when he overcame a serious injury to become the first rookie free agent to start in the season opener (with the Dallas Mavericks).
Do you need help finding the right keynote speaker? Book Walter bond for your next business conference, visit our 'Contact Us' page or call us at 1.800.345.5607.