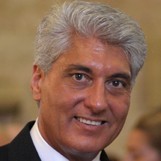 To book John Caslione as a keynote speaker for your corporate meeting or conference, click here, or call Eagles Talent Speakers Bureau at 1.800.345.5607.
"For too long business has been so good in the U.S. that many companies never had to venture outside the U.S. to be successful.  Those days are over and like it or not, the time has come to begin tapping into high growth emerging markets". –John Caslione

Quick Keynotes Speaker Podcast
from Eagles Talent Speakers Bureau

[display_podcast]
Challenge 2011: Tapping into High-Growth Emerging Markets
by John Caslione

In 2011, most experts are predicting that public and private debt will remain high, housing prices will continue to be depressed, and public sector unemployment is certain to rise as the federal government, states and cities, on the verge of bankruptcy, begin taking bolder steps to balance their budgets.  So what is a CEO and business owner to do?  The short answer is simple:  Do all you can do to maintain your current U.S. business and now get serious – very serious – about doing business or doing more business in markets outside the U.S.
For most CEOs and business owners, the beginning of a new year is a new start for their companies – one of optimism and new beginnings.  While we may be seeing some positive signs in the economy as we enter 2011, there's still not enough to give most businesses any great comfort, especially if most of their business is generated in the U.S.  The effects of the banking and financial crisis – more accurately a "debt" crisis – are still with us, and too many of the economic fundamentals underpinning the U.S. economy still are not encouraging even as we see the unemployment numbers come down slightly (9.4 percent versus 9.8 percent in 4Q10).
For too long business has been so good in the U.S. that many companies never had to venture outside the U.S. to be successful.  Those days are over, and like it or not, the time has come to begin tapping into high growth emerging markets.
One key underlying problem for the U.S. economy and her businesses that won't be easy or quick to solve is that less than 4 percent of all U.S. companies and less than 15 percent of U.S. manufacturing companies do any foreign business – not even to export a single product or service outside the U.S, let alone have any offices abroad.  And many companies doing business outside the U.S. have much of their business concentrated in Europe, whose economies are in even worse shape than the U.S.
Foreign Market Entry Strategies
A pivotal question in a company's foreign-market entry strategy is to determine the countries that should be targeted.  Once decided, the next critical decision will be the mode of entry that a company pursues to enter these new countries.  To this point, there are two primary modes for a company to internationalize its business:
1. Proactive: seeking to grow beyond one's own domestic market by first entering a foreign market then seeking new customers (market seeking).
2. Reactive: asked by customer to complete a project outside of a company's domestic or existing market, (client following).
Here is an example of one middle market company's success as it sought new business in high growth emerging markets via a client following strategy:
McNally Design International
McNally Design International has a group of 20 professionals now catering to only the Middle East.  It began its internationalization by engaging international clients and then following them – the client following entry mode.  McNally has recently opened an office in Dubai's Airport Free Zone in 2010 that coincides with its announcement of more than US$ 40 million of international design contracts with J.W. Marriott and Sheraton from the U.S. plus some local clients in The Gulf.  The major project for McNally is Qatar's new 24-story hotel in the new 'Magic Planet' concept and the Irish Village.
Client following is relevant in both the manufacturing and service sectors, and is a common characteristic of all firms seeking to minimize risk in their foreign market entry strategy.
The other entry mode, market seeking, refers to the case where a firm enters foreign markets primarily to serve foreign customers, that is, customers in that particular overseas market.
A large number of firms enter foreign markets primarily to serve their domestic clients' and customers' foreign operations.  For example, a manufacturer of auto parts and supplies will need to be physically close to its auto manufacturer customer to ensure that it can compete for the customer's foreign business.
Here's an example of one company's strategy:
KlingStubbins
After doing business in Europe and Asia for a number of years, the architectural, engineering, and interior design firm KlingStubbins opened its first foreign office in Beijing, China last year.  The office focuses on projects in China and coordinates the efforts of the U.S. offices within Asia.
The creation of KlingStubbins' Beijing office was prompted by the design firm's steady increase in international work and global business interests, especially in light of the dramatic slowdown in the U.S. over the past two years.  The new office was founded and is currently led by a Chinese-American woman, who returned to her native China after working as a project designer in KlingStubbins' U.S. offices.
This also highlights one of the key tactics used to begin the foreign market entry process – to first hire foreigners or those with close ties to foreign countries in your U.S. operations, have them learn your company and its business.  They then travel back to their home countries to begin your company's foreign marketing effort.
Once the international business is established sufficiently, these same people can then become the founders of your company's new foreign offices in their home countries.  With the U.S. design and construction market stuck in low growth mode for the foreseeable future, some of the KlingStubbins' most compelling projects are today located abroad and include the Zhiye Plaza Office Tower in China, the Landmark Tower in Japan, and the Treasury Building in Singapore.
A Time for Choosing
Doing business in emerging market economies is fast becoming a key imperative for growth, and now may be the imperative because these are today's high growth markets — China, India and Brazil, The Gulf and Middle East and Latin and South America — and they will be for Decade 2010.  U.S. companies excessively dependent on the U.S. for their business need to now understand that their options are closing, and closing fast, if they don't change their strategy.
We're in the midst of a great change here in the U.S. and around the world, one of a "leveling of the playing field" between developed economies and rising economies.  Inevitably, all U.S. companies must finally address this great change simply because to continue to ignore it is far too dangerous.
The emerging world, including its governments and its people, has little or no debt, and mountains of cash to spend for just about everything that the U.S. provides.  Now is the time for America's business leaders to take up the challenge to venture into these high growth markets.
This is what former U.S. President Ronald Reagan called, "a time for choosing" when America and its people faced a different, but no less daunting challenge.
Many CEOs and business owners here in the U.S. now face two of the most important decisions they will ever be called upon to make.  First, to venture beyond the illusionary comfort and safety of their home markets and their out-dated business models, and second, to then take up the challenges to enter high growth emerging markets to ensure the future survival of their companies.
About the Author:
John A. Caslione is a highly sought after expert in global business strategy who has personally executed strategies in 88 countries on six continents, and who serves as advisor to globalizing companies, especially into high growth emerging markets.  He is Adjunct Professor at Georgetown University's McDonough School of Business.  He is advisor to executives and their business enterprises in the U.S., Europe, Middle Eastern and Asia, and is President & CEO of global advisory and M&A firm, GCS Business Capital, LLC with offices in Chicago, Frankfurt, Milan, Hong Kong and Shanghai.

To check availability on John Caslione as a keynote speaker for your corporate event, call Eagles Talent Speakers Bureau @ 1.800.345.5607.
To listen to a podcast Eagles Talent did with John Caslione in 2010, click here.