June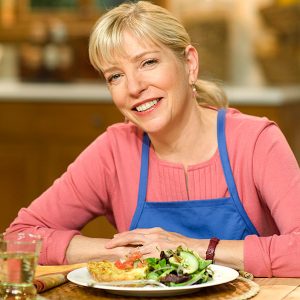 is officially Caribbean Heritage Month. In honor of this month, here is a recipe for Grilled Jerk Chicken with Watermelon Salsa from Celebrity Chef Sara Moulton. 
As host of Sara's Secrets, which ran weeknights and weekends on the Food Network, Sara Moulton is one of the hardest-working women in the food biz.
For the marinade:
4 tablespoons vegetable oil, divided
8 scallions, white and green parts, coarsely chopped
1 to 2 (to taste) Scotch bonnet chilies, coarsely chopped
3 tablespoons soy sauce
3 tablespoons lime juice
1½ tablespoons ground allspice
1½ tablespoons Colman's Mustard (English-style mustard)
2 bay leaves
2 large cloves garlic, crushed
1 teaspoon kosher salt
2 teaspoons sugar
2 teaspoons dried thyme
4 chicken breast halves (4 pounds total) on the bone with the skin, each chicken breast half cut in half
For the salsa:
2 cups diced seedless watermelon
1 cup diced seedless cucumber
2 tablespoons finely chopped shallot
¼ cup finely shredded fresh mint
3 tablespoons lime juice
2 teaspoons packed brown sugar
Salt
In a blender, combine 4 tablespoons of the oil, the scallions, chilies, soy sauce, lime juice, allspice, mustard, bay leaves, garlic, salt, sugar and thyme. Blend until the mixture forms a fine paste. Transfer the mixture to a re-sealable plastic bag. Add the chicken and turn it to coat well on all sides. Refrigerate for at least 24 hours and up to 2 days.
When ready to cook, heat the grill to medium.
To make the salsa, in a medium bowl, combine the watermelon, cucumber, shallot, mint, lime juice and sugar. Season with salt, then set aside.
Remove the chicken from the marinade, discarding the marinade. Using an oil-soaked paper towel held with tongs, oil the grill grates. Add the chicken, skin side down, and grill for 10 to 15 minutes. Turn the pieces of chicken, then grill for another 10 to 15 minutes, or just cooked through. Transfer the chicken to a plate, cover with foil and let rest 5 minutes. Serve each portion topped with some of the salsa.