Father's Day is this Sunday. In celebration of all fathers, we recognize Dr. Ivan Misner: the "Father of Modern Networking!"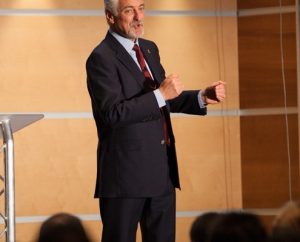 A master in his field, keynote speaker Dr. Ivan Misner makes it his mission to see that more people understand the power of networking. Dr. Misner is the Founder and Chief Visionary Officer of BNI, the world's largest business networking organization. He is one of the world's most sought after keynote speakers on the topics of marketing, business and success.
Dr. Misner provides advice on how to use your resources to your advantage and capitalize on cultivating healthy business relationships. His ideas have been featured in The New York Times, The L.A. Times, Wall Street Journal, and more. Regardless of audience size, everyone will walk away from his presentations feeling more confident and connected with the people around them.
For more information on booking Dr. Ivan Misner for one of your events, check out his page on our website or call our office at 1.800.345.5607.