Tire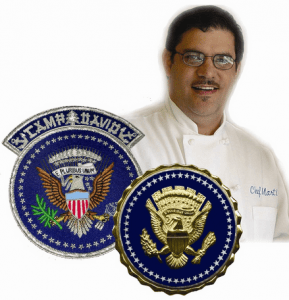 d of eating only hot dogs and hamburgers on July 4th? Well fire up your grills this Independence Day weekend and step out of the box with this unconventional holiday recipe from Celebrity Chef Marti Mongiello. 
Famed for fooling the Clinton's by incorporating healthy ingredients into their delicious meals, former White House Chef Marti Mongiello is a now a highly sought out cook and expert speaker on food, wine, and hospitality. Here is his recipe for Grilled Swordfish Steak:
INGREDIENTS:
For the marinade: 1 teaspoon McCormick ground ginger or use fresh grated ginger or ginger in the tube ~ 1/2 teaspoon McCormick garlic powder ~ ½ teaspoon Spice World minced garlic ~ 1 cup HT Traders low sodium (or regular if you like) soy sauce ~ 1 cup V8 Fusion Peach Mango juice ~ 1 cup HT Traders Orange Blossom honey or local honey from farmers.
For the salsa: 2 green onions, chopped ~ 1 mango, diced ~ 1 can of Dole diced pineapple (save juice for salsa) or use fresh pineapple (diced and sweated in microwave for 2 minutes) ~ 1 red pepper (diced and sweated in microwave for 2 minutes) ~ ½ Vidalia or sweet onion (diced and sweated in saute' pan to carmelize) ~ 2 kiwi peeled and then diced ~ 4 Swordfish steaks (one per person). FOUR SERVINGS
DIRECTIONS: First dice and sweat the red pepper in the microwave. Next, dice and sweat the Vidalia (or any sweet onion) in a saute' pan to carmelize and slightly brown (no need to fully cook the onion) – set aside for use later in the salsa. Next, in a large bowl combine ginger, garlic, soy sauce, orange juice, honey and slip the fish in to marinate. Toss and fold gently to cover all sides of fish and refrigerate for an hour or two. Now, mix all items for the salsa and refrigerate for and hour. Preheat an outdoor grill for medium heat and lightly oil grate with spray. Remove fish from marinade and discard remaining marinade. Grill for 12 to 15 minutes per inch of thickness, or until the fish flakes easily with a fork – sprinkle sesame seeds onto fish now – for a decoration. Before serving on a nice plate, spoon some salsa on top of and around the fish.
For more information on booking Chef Marti Mongiello for one of your events, check out his page on our website or call our office at 1.800.345.5607.