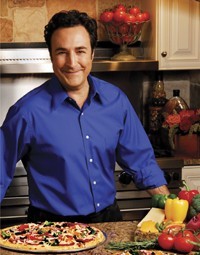 Did you know that September 5 is National Cheese Pizza Day? Check out Dr. John La Puma's recipe for everyones favorite dish – cheese pizza, with a healthy twist of course!
John La Puma MD is the leading physician voice for healthy eating as part of health, and an expert in wellness and stress management. Both a board-certified practicing internist and professionally trained chef, he is a New York Times best- selling author twice, on healthy aging and diet. As a specialist in weight control, Dr. John La Puma's mission is to empower people to transform their lives with how they live, often reversing the underlying causes of illness.
Ingredients
Cooking spray
1 pound stir-fry cut fresh vegetables (packaged or from the salad bar) such as broccoli, zucchini, mushrooms, red onion, bell peppers and julienned carrots
salt and freshly ground black pepper
1/4 cup tomato paste
2 tablespoons olive relish, such as American Spoon brand
2 tablespoons sun dried tomato bits, such as Sonoma brand
1 (12 inch, 10 ounce) prepared thin pizza crust, such as Boboli
1/4 cup chopped mixed green herbs such as chives, thyme, parsley and basil
1/2 cup (2 ounces) finely shredded smoked mozzarella cheese
Directions
Heat oven to 425 degrees. Heat a large nonstick skillet over medium-high heat until hot. Coat with cooking spray; add vegetables. Stir-fry 3 to 4 minutes or until vegetables are crisp-tender. Season to taste with salt and pepper. Combine tomato paste, olive paste and sun dried tomato flakes. Spread over pizza crust; top with cooked vegetables, herbs and cheese in this order. Bake the pizza directly on the oven rack for about 10 minutes or until crust is golden brown and cheese melts.
Tips
Baking the pizza directly on the oven rack produces a very crisp crust. If you don't have a pizza paddle (a large flat wooden tray with a handle) use a large cookie sheet to remove pizza from the oven. Or, try it over a low fire on an open grill. Here is another chef's secret: you can more than double the flavor when you use dried and canned tomatoes together.
Substitutions
Olive paste, tapenade (olive-caper paste), or olivada (olive paste with other ingredients, such as carrots) may be substituted for the olive relish. Look for jars of this unctuous Mediterranean salve in specialty food markets and many supermarkets. If you can't find olive relish, substitute 2 tablespoons of any available commercial mixture of finely diced olives, oil, and other ingredients—perhaps garlic, anchovies, lemon juice, capers, or carrots. Smoked Gouda or Lorraine cheese may replace the smoked mozzarella.
Interested in booking Dr. John La Puma, check out his profile on our website or call Eagles Talent Speakers Bureau at 1-800-345-5607.