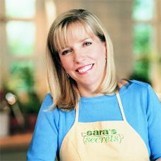 Did you know that September 18 is National Cheeseburger Day? In honor of this day, here is a delicious "DET" Burger recipe from Celebrity Chef Sara Moulton.
As host of Sara's Secrets, which ran weeknights and weekends on the Food Network, Sara Moulton is one of the hardest-working women in the food biz.
Ingredients:
3 tablespoons vegetable oil
1 medium onion, sliced (about 1 cup)
Eight 1 1/2-inch crimini mushrooms (about 4 ounces), sliced
Kosher salt and freshly milled black pepper
One 4-ounce can sliced, peeled green chiles, drained
1/3 cup pitted, brine-cured olives such as kalamata, sliced
1 1/2 pounds ground beef chuck or round
6 ounces Cheddar cheese, cut into 4 slices
1/3 cup beer
4 hamburger buns, split and toasted
Directions:
Heat 2 tablespoons of the oil in a large skillet over high heat until hot. Reduce the heat to medium; add the onion and cook, stirring occasionally, until softened, about 5 minutes. Increase the heat to medium-high; add the mushrooms and cook, stirring, until the mushrooms have browned and the liquid they release has evaporated, 4 to 5 minutes. Season the mushroom mixture with salt and pepper to taste and transfer it to a bowl; add the chiles and olives and set aside. Wipe out the skillet.
Gently shape the beef into four 4-inch burgers; season with salt and pepper. Heat the remaining tablespoon of oil in the skillet over high heat until hot. Reduce the heat to medium-high, add the burgers, and cook 3 minutes. Turn the burgers and cook 2 minutes. Top each with a quarter of the chile mixture and a slice of cheese. Add the beer to the skillet; cover and steam until the cheese has melted, about 3 minutes.
Transfer the burgers to the toasted buns and serve.
Interested in booking Chef Sara Moulton, check out her profile on our website or call Eagles Talent Speakers Bureau at 1-800-345-5607.