Did you know that September is National Chicken Month? 
In honor of this month, here is a recipe for healthy fried chicken from Celebrity Chef Curtis Aikens. 
Ingredients:
1 large whole chicken breast filet
1 cup flour
rosemary
tarragon
oregano
peanut oil
1 egg (white)
non-stick pan
measuring spoons
whisk
Directions:
Filet chicken breast into 3 "portions."
In plastic bag place flour & dried herbs: rosemary, tarragon & oregano.
Whisk egg whites until frothy and coat chicken pieces.
Drop chicken pieces into bag to coat in flour mixture.
Heat 3 TBL peanut oil into non-stick pan.
Drop in dusted pieces of chicken and cook till done.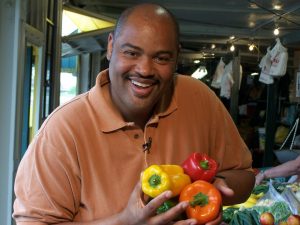 Chef Curtis Aikens routinely illuminates crowds everywhere with his vibrant cooking demonstrations and motivational speaking skills. In addition to his wealth of knowledge on the topic of food and nutrition, Chef Aikens is also well versed on the topic of literacy, addressing and helping adults by sharing his own personal struggle with illiteracy, bringing hope and inspiration to thousands! 
For more information on booking Chef Curtis Aikens for one of your events, check out his page on our website or call our office at 1.800.345.5607.