Did you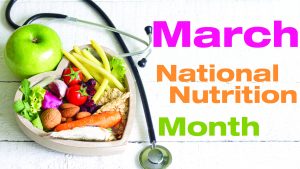 know that March is National Nutrition Month? In honor of this month, here are some of the Top Ten Nutrition Speakers on our site who provide audience members and organizations insightful advice on not only how to get healthy, but to stay healthy!
1. Janet Brill
Dr. Janet Brill travels nationally as one of the most sought out experts on the topics of health, wellness and heart health awareness. Whether she's speaking at small businesses or Fortune 500 companies, Dr. Brill's keynote speeches are sure to satisfy the needs of audiences everywhere.
Barbara Bancroft is more than a keynote speaker – she's a dynamic and highly informative presenter who possesses a wealth of information on health and clinical topics that can be applied in every industry.
Best known as America's Nutrition Leader, Zonya Foco makes it her mission to combat obesity, diabetes, and heart disease. Using humor and facts, Foco's keynote speeches are not only easy to understand, but essential to incorporating into your everyday life, personally and professionally.
4. Chef Missy Chase Lapine
Chef Missy Chase Lapine, also known as the Sneaky Chef, is best known for her brand of healthy eating in the household. Her successful career as a chef has made her one of the most in demand speakers on the topics of food, health, and family
Marcie Fraser is a journalist and TV reporter who is also an expert on health and medical issues. As a keynote speaker, Fraser informs audiences on the benefits of stress motivation, wellness, and general nutrition.
Elizabeth Somer is a registered dietitian who also travels across the nation as a keynote speaker, informing organizations of the latest and greatest best practices that can benefit their employees in the workplace and their personal lives.
Jill Fleming is a weight loss specialist who utilizes her experience in nutritional education to inform individuals on ways to not only lose weight, but maintain it.
When it comes to experience, Nick Jacobs has it all. His abilities to strategically outline the necessary steps that organizations need to achieve is unparalleled, as he is sought after in various capacities to lead businesses to success.
Dr. Jo Lichten is America's On-The-Go Health Guru and a proven professional speaker who travels the world as a nutrition consultant, informing audiences everywhere on real practical advice that the busiest of people can incorporate into their lives.
Joan Moran is a one of the most prominent thought leaders as well as an empowering keynote speaker known for her ability to leave audiences in complete awe. With humor, energy and dynamic experience, it's no wonder why organizations love booking her for their events.