Did you know that September is National Wild Rice Month? In honor of this month, here is a recipe for Artichokes Stuffed with Savory Wild Rice from Celebrity Chef and author, Martin Yan.
Ingredients:
• 3½ cups reduced-sodium chicken broth
• ¾ cup California wild rice
• ¾ cup jasmine or other long-grain white rice
• 2 Tablespoons olive oil
• 1 medium onion, chopped
• 2 cloves garlic, minced or pressed
• 1 6.5 ounce jar marinated artichoke hearts, chopped, reserving liquid
• 1 Tablespoon minced, fresh oregano or ½ teaspoon dried oregano
• 2 teaspoons finely grated lemon peel
• 1 cup crumbled feta cheese
• ½ cup thinly sliced green onions
Cooking Instructions:
Rinse wild rice in a colander under cool running water until water runs clear. Add wild rice to boiling broth (or water with 2 teaspoons salt) in a 1½ – quart saucepan and return to a boil. Reduce heat; cover and simmer 45 to 50 minutes, or until kernels burst and wild rice is tender. Drain excess liquid, if necessary, and cool wild rice. You should have 2 cups cooked wild rice.
Meanwhile, trim off the stems, fibrous lower leaves and prickly tops from the artichokes. Rub all cut surfaces with the lemon wedge. Place artichokes in a steamer and steam over boiling water for about 30 minutes, or until a petal near center pulls out easily. Remove from steamer, cut each artichoke in half lengthwise and scrape out fuzzy choke. Set halves aside.
Place a wok or sauté pan over medium-high heat until hot. Add vegetable oil, stirring to coat. Add ham, bell pepper and green onions; stir-fry for 1 minute. Add cooked wild rice, soy sauce, sesame oil, salt and white pepper and toss to mix well. Fill artichoke halves with stir-fried wild rice mixture. Serve warm.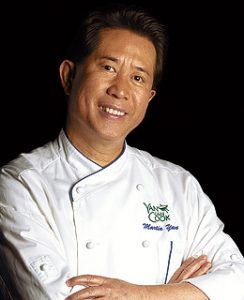 As an author, cooking instructor and the host of over 3,500 cooking shows, Chef Martin Yan brings his diverse expertise to the world of culinary arts. Martin Yan's presentations are not only fun, but informative, as he explains the various cultures and practices that most accompany a dish. With his charisma, humor, and vast knowledge, Chef Martin Yan is sure to be a hit for every audience.
For more information on booking Chef Martin Yan for one of your events, check out his page on our website or call our office at 1.800.345.5607.