We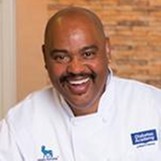 all enjoy the delightful taste of South Asian Cuisine, so in honor of South Asian Heritage Month, we wanted to share a recipe from Chef Curtis Aikens. 
Chef Curtis Aikens regularly entertains crowds with public appearances at food festivals and events with his dynamic cooking demonstrations and motivating speeches.
(Serves 4)
2 teaspoons cumin seeds
1 teaspoon salt
1 teaspoon ground mustard
2 teaspoons ground turmeric
1/2 teaspoon ground coriander
1/2 teaspoon ground cayenne pepper
1/2 stick (2 ounces) butter
2 medium red potatoes, peeled and diced
2 medium carrots, peeled and diced
1 red onion, diced
1 cup plain yogurt
1 cup fresh green peas
2 cups (about 1lb) asparagus, raw, cut into 1/2 inch pieces
Heat the butter in a pan and add all the curry powder, stirring to blend. Add the potatoes, carrots, and onion, cover, and cook until the vegetables are tender, about 10 to 15 minutes. Add the yogurt and peas and asparagus to the pan an stir until all the vegetables are coated with the yogurt and thoroughly heated. Serve over rice. To make the curry powder, combine the cumin seeds, salt, mustard, turmeric, coriander, and cayenne. Grind this mixture together in a coffee grinder.