One of the most delicious times of the year, National Hot dog Month, is finally here!
Hot dogs have been a staple in the American diet for over a century. Their popularity has always been high due to their easy portability, versatility in recipes, and especially their taste. There is no wrong time or place to enjoy a hot dog. People devour them at barbecues, concerts, and sporting events, especially at baseball games.
During Major League Baseball season, hot dogs are sold by the MILLIONS each year!
However, despite their delectability, not all hot dogs are grilled equally. The "Fenway Frank" at Fenway Park in Boston is just one of the many renditions of these summer snacks and are loved by both Red Sox fans and opposing fans alike.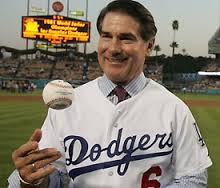 One of the most famous baseball stadium hot dogs in the nation is the "Dodger Dog" at Dodger Stadium in Los Angeles. With its simple makeup of only a footlong hotdog (grilled or steamed) topped with mustard and relish on a steamed bun, it has been a fan favorite for decades.
In addition to its great food, another fan favorite at Dodger Stadium is a man who "ate up" nearly any ball hit his way over his stellar 19-year career, Dodgers legendary first basemen Steve Garvey. This 10-time All-Star and 1981 World Series champion knows what it takes to work towards a common goal and excel in life. He is also the President of Garvey Management Group and continues to inspire others by teaching them skills for business and leadership.
Nearly everyone knows about Nathan's Famous hot dogs since they arrived at Coney Island 100 years ago. Another conservatively prepared hot dog, Nathan's boiled all-beef treats served on steamed buns are New York icons. A century later, they are still here and are sold at Yankee Stadium. Many storied careers have passed through this ballpark, but one story stands out from the rest.
With a passion and desire to play the game he loved, pitcher Jim Abbott took the mound at Yankee Stadium with only one hand. Despite being born without his right hand, Abbott found a way to accomplish his baseball dream. He enjoyed an 11-year career on multiple teams showing hints of light wherever he went. However, Abbott shined his brightest in New York while playing for the Yankees on September 4, 1993. While pitching against the Cleveland Indians, Abbott became only the eighth Yankee and ONLY one-handed pitcher to throw a no-hitter. His courageous tale captivates all audiences as he shows people what they can do no matter what the odds.
The Cincinnati Reds have some of the most passionate fans in baseball. The Reds, being founded in 1881, are one of the oldest franchises in Major League Baseball. Along with their age, the Reds offer a traditional Cincinnati take on the beloved hot dog. Inspired by Nathan's, the Reds' home of Great American Ball Park has the "Cincinnati Reds Cheese Coney." Cincinnati locals love chili, so this hot dog is smothered in famous Skyline chili and topped with onions and shredded cheddar cheese.
When fans "catch" a Reds game, images of former Hall of Fame Reds catcher Johnny Bench often come to mind. Regarded by many including ESPN and the Sporting News as the greatest catcher of all time, Bench brought two World Series wins to Cincinnati during the 1970's. Bench, along with Hall of Fame teammates Pete Rose, Joe Morgan, and Tony Pérez became known by many as the "Big Red Machine" because of their success throughout the decade.
Since retiring from baseball, Bench has appeared on multiple sports television and radio shows. He also supports many causes including the American Cancer Society, where he served as the National Chairman of Athletes vs. Cancer, and the 'Catch the Cure' program of the Children's Hospital of Cincinnati.
For more information on booking a keynote speaker for one of your events, check out www.eaglestalent.com or call our office at 1.800.345.5607.