October is officially National Pizza Month. In honor of this incredible month and this incredible dish, we decided to share a couple of recipes from our Celebrity Chefs, such as… 
Chef Missy Lapine
The Sneaky Chef is the brai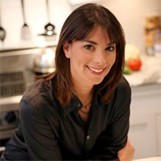 nchild of Missy Chase Lapine, whose New York Times bestseller, The Sneaky Chef: Simple Strategies for Hiding Healthy Foods in Kids' Favorite Meals inspired a whole new brand in the healthy eating/lifestyles category. 
BBQ Chicken Pizza on Whole Grain White Rice Crust by The Sneaky Chef Missy Chase Lapine
Ingredients
3 tablespoons of water
1 large egg
Pizza toppings
1/2 cup low-sodium barbecue sauce
1 box UNCLE BEN'S® Whole Grain White Long Grain
2 cups Cubed roasted or rotisserie chicken, ideally white meat
15 ounces Can of chickpeas (garbanzo beans)
1/2 cup Part-skim shredded mozzarella cheese
1/4 teaspoon salt
1 1/2 cups Part-skim mozzarella cheese
1/2 cup All-purpose flour (or gluten-free brown rice flour or chickpea flour)
Directions
Prepare the UNCLE BEN'S® Whole Grain White Rice Long Grain as instructed on the box.
Preheat oven to 425 F degrees and spray a shallow 9-inch by 9-inch baking pan with oil.
For simple homemade Sneaky Chef Chickpea Puree rinse chickpeas add 3 to 4 tablespoons water and puree in food processor until smooth. (Makes about 1 cup of puree. Leftovers can be kept in refrigerator for up to three days or frozen for up to three months.)
In a mixing bowl combine rice, 1/4 cup Chickpea Puree, egg, 1/2-cup cheese, salt, and flour. Mix well and press into the prepared baking pan spreading evenly.
Bake for 12 to 15 minutes until crust is lightly browned. Remove from oven.
In a mixing bowl combine 1/2 cup Chickpea Puree (or store-bought hummus) with the barbecue sauce. Toss 2 tablespoons of the sauce mixture with the chicken. Set aside.
Spread remaining barbecue sauce mixture over prepared pizza crust and then sprinkle the 1 1/2 cups of cheese and chicken mixture evenly over the crust.
Bake for 10 to 12 minutes until cheese is bubbly and lightly browned. Allow cooling a few minutes, then cutting into squares and serving.