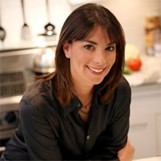 One of the biggest challenges for any family is getting the kids –- and sometimes the grown-ups– to eat right. New York's "Sneaky Chef" Missy Chase Lapine offers new ways to incorporate healthy foods into anyone's diet without them knowing. The Sneaky Chef's recipes put a nutritious new spin on comfort foods for picky eaters.
Here's one of our favorites:
Barbell Burgers
(Makes: 4 servings)
*If time allows, make the burger patties ahead of time and chill them for an hour before grilling so they're firmer and easier to handle.*
Ingredients:
• ¼ cup tomato paste
• ¼ cup Prune Puree or Purple Puree (see Make-Ahead Recipe #1)
• ¼ cup oat bran, plus additional as needed
• 
2 teaspoons Worcestershire sauce
• ½ teaspoon salt
• 1 pound lean ground beef
• 4 hamburger buns or English muffins, preferably whole grain
• Optional extra boost: lettuce, tomato slices, or grilled onions and mushrooms
In a large bowl, mix tomato paste, Purple Puree, oat bran, Worcestershire sauce, and salt. Add the ground beef, mixing with your hands until well combined. If the mixture is too sticky, add a bit more oat bran.
Using damp hands, shape mixture into four 1/4-pound patties. At this point, the burgers may be prepared a day ahead and kept covered in the refrigerator or frozen. If you are not freezing for future use, proceed to the next steps.
Spray both sides of the burgers with oil and place them on the prepared grill. Cook for 4 to 7 minutes on each side, or to desired doneness.
Serve on whole grain buns slathered with Perfect Pesto, or One-and-Only Guacamole, and optional extras and enjoy!
To check fees and availability on Missy Chase Lapine call Eagles Talent Speakers Bureau at 1.800.345.5607.