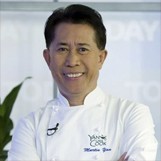 Have you always wanted to try your hand at Chinese cooking, but weren't sure where to start? Try this quick and easy recipe by Chef Martin Yan. As a globally broadcasted cooking show host, Certified Master Chef, and author of 30 cookbooks (including Chinese Cooking for Dummies), Chef Yan is the go-to expert for Asian cuisine.
Here's his recipe for a speedy "sweet and spicy" stir-fried beef:
Flambeed Shangri-La Beef
(Serves 4)
12 ounces  beef tri-tip or flank steak, thinly sliced across the grain
2 tablespoons vegetable oil for stir-frying
20 dried red chilies
2 tablespoons minced garlic
4 green onions, cut into 2-inch pieces
1/4 red bell pepper, cut into long, narrow strips
3 tablespoons chili bean paste
1 tablespoon hoisin sauce

For the marinade
1 tablespoon regular soy sauce
1 tablespoon dark soy sauce
1 tablespoon Chinese rice wine or dry sherry
1 tablespoon cornstarch
Directions:
1. To make the marinade, combine the regular and dark soy sauces, rice wine, and cornstarch in a medium bowl and mix well. Add the beef and stir to coat evenly. Let stand for 10 minutes.
2. Place a wok or stir-fry pan over high heat until hot. Add the oil, swirling to coat the sides. Add the chilies and garlic and, cook, stirring, until fragrant for about 20 seconds. Add the beef and stir-fry until slightly pink in the center for 3 to 4 minutes. Add the green onions and bell pepper, and cook until the green onions wilt. Add the chili bean paste and hoisin sauce and toss to coat the meat evenly.
3. Transfer to a serving plate and serve.
To check fees and availability on Chef Martin Yan call Eagles Talent Speakers Bureau at 1.800.345.5607.