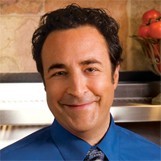 Today, there seem to be endless options for those seeking wellness. Thousands of medications and homeopathic methods claim to be the key to improving and maintaining health. But Dr. John La Puma has a simpler idea – you truly are what you eat. Dr. La Puma is the leading physician voice for healthy eating as part of health, and an expert in wellness and stress management. He is the first ever physician to teach a cooking class in an American medical school, and advocates using healthy food to help prevent and control common health conditions.
This bouillabaisse recipe is rich in omega-3 fatty acids, which may help lower the risk of macular degeneration, heart disease, and Alzheimer's disease.
Simple Mediterranean Bouillabaisse
(serves 4)
1 tablespoon extra virgin olive oil
4 cloves garlic, minced
1 (8 ounce) bottle clam juice
½ cup dry white wine
1 (14½ ounce) can organic fire roasted diced tomatoes, undrained
1 bay leaf
1 tablespoon chopped fresh thyme or 1 teaspoon dried
½ teaspoon crushed red pepper flakes
½ teaspoon saffron threads, crushed (optional)
12 large or 24 small live mussels, scrubbed, debearded
1 teaspoon smoked paprika
12 ounces skinless Pacific halibut, fish fillets, cut into 1-inch chunks
4 small whole wheat rolls, warmed (optional)
Directions:
Heat oil in a large deep skillet or Dutch oven over medium heat. Add garlic; saute 1 to 3 minutes or until light golden brown. Add clam juice and wine; simmer 2 minutes. Add tomatoes, bay leaf, thyme, red pepper flakes and, if desired, saffron. Simmer 2 minutes. Add mussels to skillet. Cover; simmer 2 minutes. Sprinkle paprika over fish; add to skillet. Cover; simmer over medium-low heat 6 minutes or until mussels open and fish is opaque. Discard bay leaf; ladle into shallow bowls. Serve with rolls if desired.