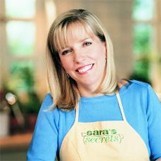 If you're like most working Americans, you probably don't think you have the time to prepare a gourmet meal. But delicious cooking doesn't have to take a chunk out of your schedule. Try this quick and tasty recipe from Chef Sara Moulton, who knows all about being strapped for time. This Food Network star has been juggling multiple jobs, including Executive Chef of Gourmet Magazine, for her entire career. Not to mention a full family life! Her new book Sara Moulton's Everyday Family Dinners features recipes for over-scheduled cooks who want to treat their loved ones without spending hours in the kitchen.
This quick sauté takes only a few minutes, but your family will be raving for weeks:
Hungarian Pork Cutlets
(Serves 4)
1 pound pork scaloppini cut from the leg or 4 thin boneless chops
1/4 cup all purpose flour
3/4 teaspoon kosher salt
1/4 teaspoon freshly ground black pepper
2 tablespoons vegetable oil
1 large shallot, minced
1 1/2 tablespoons sweet or hot paprika
1 tablespoon caraway seeds
1/4 cup dry white wine
1 cup homemade chicken stock or canned broth
1/4 cup sour cream
Additional kosher salt and freshly ground black pepper to taste
Directions:
Sprinkle a small amount of water on a large sheet of plastic wrap. Place half of the pork slices on top of the plastic and sprinkle again with water. Cover with another sheet of plastic wrap and pound with a rolling pin or meat pounder until about 1/4 inch thick. Repeat with the remaining pork.
Mix the flour with the salt and pepper in a shallow pie plate. Heat the oil in a large skillet over medium-high heat until almost smoking. Place the cutlets in the flour mixture and turn to coat on all sides. Shake off the excess flour and add to the skillet. Working in batches if necessary, sauté until golden, about 1 minute per side. Transfer to a plate or platter and cover loosely with foil.
Add the shallot, paprika, and caraway seeds to the pan. Sauté for 1 minute, then add the wine. Simmer, stirring to pick up any browned bits on the bottom, until almost dry. Add the chicken stock and simmer for 3 minutes. Return the pork to the skillet and simmer turning often, until warmed through and the sauce is thickened, about 1 minute. Transfer to warmed serving plates. Stir the sour cream into the pan juices and season with salt and pepper. Spoon over the pork and serve at once.
To check fees and availability on Chef Sara Moulton call Eagles Talent Speakers Bureau at 1.800.345.5607.