In honor of Caribbean Heritage Month, we would like to highlight some of our favorite Caribbean dishes from our favorite celebrity chefs, such as….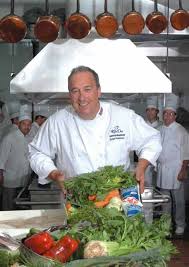 Darren McGrady spent 15 years of being a royal service to Queen Elizabeth II of England and Diana, Princess of Wales. He has made several appearances as a guest on CNN's Larry King Live, on the Fox News Channel, Fox and Friends covering the Princess Diana Memorial, cooked on the Today Show and CBS Early Show in New York, and the BBC and SKY television and radio in England and across Europe, and more. Check out his recipe for Curried Salmon Kedgeree here!
Ingredients:
1-cup basmati rice
1 quart boiling water
¼-cup green onions, finely chopped
2 Tbs fresh parsley, finely chopped
1 ½ lb salmon, poached and cooled then flaked
4 hard boiled eggs, peeled
1 Tablespoon of curry powder (or to taste)
2 cups heavy cream
salt and pepper to taste
Directions: 
1. In a large heavy based pan bring the water to a rolling boil and add the rice.
2. Cook until tender and strain into a colander. Return the pan to the heat and add the cream and curry powder. Bring to the boil and simmer until the cream starts to thicken slightly.
3. Place a small pan of hot water (about 3 cups) on the stove and bring to the boil. Immerse the boiled eggs and turn off the heat.
4. Add the strained rice to the curried cream and stir.
5. Once the rice is hot, season with salt and pepper and add the flaked salmon and stir. Try not to break up the salmon pieces.
6. Spoon the kedgeree into a warm serving dish and sprinkle with the green onions and parsley.
7. Remove the eggs from the water and cut into quarters.
8. Garnish around the edges of the kedgeree with the eggs.
Serves 4
Interested in booking Chef Darren McGrady, check out his profile on our website or call Eagles Talent Speakers Bureau at 1-800-345-5607.
Want more recipes?
…then check out other dishes in honor of Caribbean Heritage Month from Chef Curtis Aikens, Dr. John La Puma, and Chef Joey Altman!