Hooray for National Waffle Day! The national holiday, which coincides with the U.S. patent on waffle irons, is celebrated August 24th. In recognition of this tasty day, Eagles Talent is sharing keynote speaker and celebrity chef, Jet Tila's Thai Style Chicken & Waffles Recipe!
---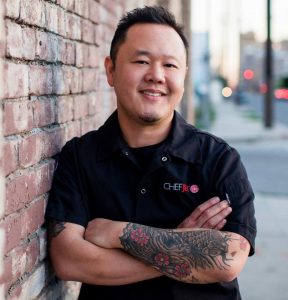 Jet Tila has carved a singular niche as a culinary storyteller. Throughout each dish he makes, he incorporates his family culture. He recreates recipes that his grandmother and mother taught him when he was younger. His  true passion is sharing those eccentric flavors and stories with people from all over the world. Dig into one of his savory recipes below!
Chicken & Waffles Thai Style!
Ingredients:
BREADING:

2 cups

 

AP flour

1/2 tbsp

 

Lawry's salt

1 cup

 

Panko bread crumbs
WAFFLE:
2 eggs
2 cups all purpose flour

1 3/4 cups

 

milk

1/2 cup

 

vegetable oil

1 tbsp

 

white sugar

4 tsp

 

baking powder

1/4 tsp

 

salt

1/2 tsp

 

vanilla extract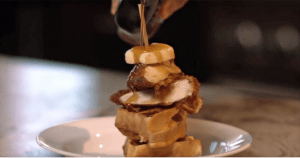 Directions:
CHICKEN
1. Soak Chicken breast in Buttermilk and Lawry's salt overnight.
2. Preheat Oil in a heavy skillet until 360 degrees. Combine breading ingredients in a bowl.
3. When ready to fry, remove chicken from buttermilk but do not shake off excess buttermilk. Place brined chicken into breading and press the breading into the chicken. Press both sides in and shake off excess. Deep fry about 3-5 minutes until cooked through.
WAFFLE
1. Preheat waffle iron. Beat eggs in large bowl with hand beater until fluffy. Beat in flour, milk, vegetable oil, sugar, baking powder, salt, and vanilla, just until smooth.
2. Spray preheated waffle iron with non-stick cooking spray. Pour mix onto hot waffle iron. Cook until golden brown. Serve hot. Serves 4.
Find out more about this recipe here.
---
Combining kitchen experience with the bold new world of food media was a natural move for Jet Tila. Throughout his career, he has accomplished a lot. Tila even opened the cafe at Google headquarters in Silicon Valley and currently maintains a wildly popular Asian food line through Schwan's Home Service. He keeps close to his roots by conducting "Melting Pot Food Tours" of Thai Town in Los Angeles, offering participants a curated tour of his favorite aspects of the neighborhood.
Jet says, "I am and always will be a chef, but I am also always interested in new ways to combine cooking, business, and communication since I enjoy all of them as much as I enjoy teaching people about where I come from through my food."
---
For more information on booking Celebrity Chef Speaker Jet Tila, check out www.eaglestalent.com or call our office at 1.800.345.5607.