Children's Day is celebrated all over the world on various dates, to honor and show appreciation to those who will soon be handed down the world from us.
However, this day is not only one of futuristic wishful-thinking — but of reflection on how far children have progressed. After all, successful people of 2016, were once children themselves (some longer ago than others!) But some children take the future into their own hands before adulthood.

Teenage speaker, activist, and UC Berkeley student Adora Svitak is a shining example of how a child can impact the world in such a short time.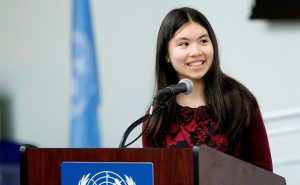 Adora has published three books, her first, "Flying Fingers," when she was only SEVEN years old! She has also received many awards for her views on education, including the 2011 National Education Association Foundation's Award for Outstanding Service to Public Education. She is the youngest person to ever receive this award.
One of her most notable views on education is that there should not only be teachers lecturing their students. She believes that, "the students should teach their teachers."  By incorporating technology such as Cloud computing into their learning plans, Svitak thinks that teachers will be able to effectively communicate with their students. 
Adora has shown the world that children are more than just test takers.  They are also our most valuable teachers.