Why is Linda Ellerbee this week's most requested speaker?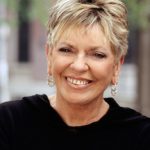 …because Linda Ellerbee is a world renown, award-winning journalist who brings the the world's most exciting stories onto our living room televisions. As a career journalist, Linda has appeared on networks such as ABC, CBS, HBO, Nickelodeon, and more. In addition to her success as a journalist, Linda is also a best-selling author, with her books inspiring millions all around the globe.
As a keynote speaker, Linda inspires aspiring journalist students at college campuses everywhere with her carefully tailored presentations. Furthermore, her presentation topics include technology, social media, surviving breast cancer, change, and more. While America is sad to hear that she is retiring from the airwaves, Linda Ellerbee has undoubtly become one of the greatest journalists tv history. Here are some of her programs: 
Program Details:
And So It Goes: Adventures in Journalism
Linda Ellerbee, who still does it her way, also has a lot to say about journalism today and journalism tomorrow. Her commencement speeches to young journalism graduates are designed to encourage them to take their work seriously without taking themselves seriously, and to inspire them to make journalism better – because they can. 
Surviving Breast Cancer to Laugh Another Day
She talks of dealing with the medical profession, family, and friends – all of whom, even when well intentioned, occasionally seem misguided or absurd, if not downright silly. Ellerbee encourages women to become partners in their treatment, to stand up for themselves, to make a big noise, to fight – and fight back. 
How to Survive a Changing World & How to Change Your World
Linda Ellerbee gives her rules for surviving a changing world with the heart intact – from surviving breast cancer to climbing mountains, from overcoming obstacles to making a noise. In her life and in her career, Ellerbee has learned that change is the norm.
How to Raise Media-Savvy Kids
In the future, our kids will either learn to use the media that surround them as tools, or they will be tools of that media. Ellerbee offers insight and perspective gained from speaking with (and listening to) kids for nearly 20 years on the critically acclaimed children's television series, Nick News, and from raising two media-savvy kids of her own. 
For more information on booking Linda Ellerbee for one of your events, check out her page on our website or call our office at 1.800.345.5607.