Kick off your summer fun, with The Politicos. This comedy troupe features some of the best impersonators around the country. With Reggie Brown as Barrack Obama, Patti Lyons as Sarah Palin, and Tim Watters as Bill Clinton; this political comedy trio easily entertains all audiences, from both sides of the political spectrum. Their 60 minute act features musical parodies, an interactive multimedia show, and cleverly scripted Q&A's.
All three acts can be booked individually for your conference or event.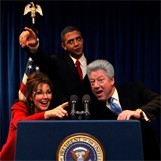 Reggie Brown is the spitting image of our 44th President. Since Obama's election Brown has been featured on NBC, ABC, CNN, WGN and Fox News. He even scored the presidential role for Hollywood's first film on the election called, "The Effect."
Patti Lyons has been featured on The Tonight Show with Jay Leno, as well Fox News The Huckabee Show, and ABC News. During the 2011 CPAC (Conservative Political Action Conference) she fooled the press into actually believing Sarah Palin was in attendance.
Tim Watters has been on several media outlets impersonating the former President and is considered one of the best Bill Clinton impersonators around. Watters appeared on Larry King Live, CBS Morning News, CNN, Entertainment Tonight, The Tonight Show, and Dateline NBC.
[youtube]https://www.youtube.com/watch?v=XvNpUUBnhAA[/youtube]
Don't forget to sign up for a  post-show meet and greet which will provide your attendees with a take-home photo that will be a timeless memento of your corporate or private event.