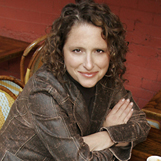 Cory Kahaney
Last Comic Standing Finalist
Why Book Cory Kahaney?

Cory Kahaney has been busy. She recently appeared The Late Show with Stephen Colbert, was a hit on the 2016 season of America's Got Talent and was featured in Catskills on Broadway. Cory has been seen on The Late Show with David Letterman and performed a record 7 times on The Late, Late Show with Craig Ferguson. Cory is also a regular on The View, Fox & Friends and The Moms.

Prior to stand up Cory worked in the corporate world and she understands the importance of actionable metrics and core competency. Cory has done her share of heavy lifting to level the playing field in spite of an 800 pound gorilla picking all the low hanging fruit. If you included Cory in your enhancement programming it will be a strategic social wellness event. She is consciously aware of the climate and the culture while still offering a rewarding value added component to any function. 
Cory Kahaney is quite simply one of America's premiere comediennes. While always in constant demand at comedy clubs coast to coast, Cory caught fire after being a finalist in NBC's hit reality show "Last Comic Standing" which has led to appearances on NBC's The Carson Daly Show, Comedy Central's "Tough Crowd with Colin Quinn" and her first solo special, "Comedy Central Presents... Cory Kahaney." Her other television credits include numerous appearances on CBS' "The Late Late Show with Craig Ferguson," hosting a week of NBC's "Later" as well as appearing on the syndicated "Martin Short Show," The View, "Politically Incorrect with Bill Maher," Comedy Central's "Premium Blend, "NBC's "Louie Anderson's Comedy Showcase" and most recently an absolute "kill" on CBS' "The Late Show with David Letterman." Her off-Broadway hit "The J.A.P. Show" ran for six months in New York City and continues to tour the country under a new name, "The Princesses of Comedy" selling out theaters to rave reviews. Cory also performs regularly at Las Vegas and Atlantic City's best casinos including The Tropicana, Harrah's and Caesar's Palace.