Eagles Talent is proud to represent David Trumble for keynote speaking engagements. David Trumble, Award-Winning Artist and Author is now available for keynote speaking engagements through Eagles Talent Speakers Bureau. David writes articles and draws editorial cartoons and for the Huffington Post and inspires audiences worldwide as an international motivational keynote speaker.
At just 28 years, David Trumble is already an international award-winning artist, author and illustrator. He rose to critical claim as the youngest political cartoonist to work at the Sun Newspaper (one of the largest newspapers in the world). Trumble's work moved to the top of Amazon's 'Movers and Shakers' list for his dynamic illustrations in the Simon & Schuster publication, A Random Book About the Power of ANYone by Talia Leman.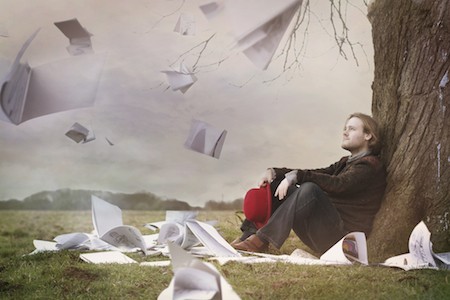 His TEDx presentation, The Journey to Indifference, at TEDxYouth@DesMoines has produced thousands of views on the TEDYouth YouTube Channel. He uses his personal journey of finding meaning in his life to help the audience embrace their own blank canvas of infinite possibilities.
Described as a "mega-watt talent" and a "consummate professional," David writes and draws thought-provoking cartoons for the Huffington Post and been featured internationally through media outlets that include The Today Show, Upworthy, NBS's iVillage, The Christian Science Monitor, Jezebel, The Boston Globe and The Sunday Times in the UK.
In addition to his speaking and editorials, David's upcoming book series for children, Mother Goose Retold, which he wrote and illustrated, is set to be released this year (2014). The series retells the classic Mother Goose rhymes with original new verses, taking familiar stories into unexpected territory. Retailers have already ordered nearly a million copies of the series' first three books, Twinkle Twinkle, Little Miss Muffet, and Humpty Dumpty.
David's message is universally appealing. He provides thought-provoking content that groups (corporate, associations, universities, non-profits) can apply both professionally and personally.
[bitsontherun FP0SGwKo]
To check fees and availability on David Trumble call Eagles Talent Speakers Bureau at 1.800.345.5607.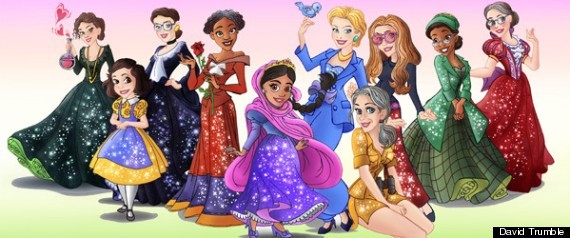 10 Real World Princesses Who Don't Need Disney Glitter.
This work of David's originally appeared in the Huffington Post. View the article that went viral here.
David's Describes this piece: "Why do we paint all of our fictitious female role models with the same brush?" David told iVillage. "The cartoon is a satire that is not meant to glamorize the princess versions of the characters, but rather to make fun of the very limiting princess mold by showing how ridiculous it is to try to crowbar real-life heroes into the template," Trumble said. "It comes down to this: Our cultural ideal of a woman is this princess mold that has been captured by too many cartoon media outlets, books and movies. Being an ideal woman has come to mean squeezing your individual greatness into this archetype. My drawings are meant to convey that greatness in women exists in our history books and before our eyes… We have to change our consumer habits, before others will change what they sell to our daughters."