At just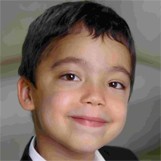 11 years old, Ethan Bortnick has achieved more than most kids his age could even imagine. He plays and composes music for piano, and been featured on national television, performed for Congress, and shared the stage with A-list celebrity musicians … All before the sixth grade! Ethan was recently crowned the "Youngest Musician to Headline a Solo Concert Tour" by Guinness World Records, beating out stars like Michael Jackson and Stevie Wonder.
However, music is not the only thing Ethan is passionate about. This child prodigy has used his talents to raise record amounts for charities, including $12 million for the Miami Children's hospital, where two heart surgeries saved his younger brother. He also co-hosted a telethon raising over $8 million for the charity and getting a worldwide viewership of over 20 million.
It's remarkable that, at such a young age, Ethan is not only so musically inclined, but also has such a will to give to others. With his big heart, adorable smile, and incredible talent, it's no question that Ethan Bortnick will go far.
[youtube]https://www.youtube.com/watch?v=PtBuHzmyjDE&feature=plcp[/youtube]
Bring Ethan Bortnick to your next event by contacting Eagles Talent Speakers Bureau at 1-800-345-5607.