Josh Blue is a true Renaissance man. However, he is best known as the 2006 winner of NBC's Last Comic Standing. Since his appearance on the show, his fan base has increased exponentially.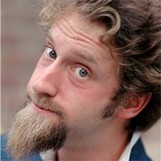 Born with cerebral palsy, Blue uses his disability as a vehicle for comedy. He quips about the everyday challenges of living with CP, like hailing a taxi with his "crazy right arm," taking 45 minutes to sign an autograph, and the police mistaking him for drunk.
Many would call Blue an inspiration, but he would certainly disagree. He jokes, "I was walking down the street and this woman walks up to me and she goes, 'You know, I think it's so inspirational that you're out.' I was like, "I'm on my way to the liquor store. Are you inspired?"
Blue's comedy routine is as much about shifting perspectives as it is about making people laugh. Through his unique brand of stand-up, he smashes people's preconceived notions about people with disabilities. "I realize that people are going to stare," he says, "so I want to give them something to stare at."
Josh Blue challenges the stereotypes about being disabled, but keeps it light. And he doesn't mind if the laughs are on him.
[bitsontherun Gcz9VsDz]