After a long and cold winter, spring is officially here! Most of us spent our time wistfully looking out our office windows, fantasizing about warm far away places.

A vacation would will let us forget about work, and refresh! However, when all the daydreaming is done, we have to ask ourselves:
"Can I afford to take time off?"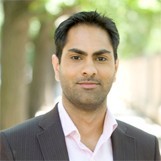 Financial Speaker and Author of I Will Teach you to be Rich Ramit Sethi, suggests that taking guilt-free time off will ensure a richer lifestyle at home and increase productivity at work. As a personal finance and entrepreneurial advisor, Ramit suggests, "being rich is partially about money but it's also about living a rich lifestyle, whatever that means to you."
What's the point of working so hard if we don't take the opportunity to appreciate our hard work? Time is not the main factor hindering personal productivity. Humans are not designed to focus our energies 100% of the time; we all need some form of recuperation to stay focused at work.
In his Top 5 Productivity Mistakes, Ramit suggests that "feeling that you have to be productive ALL the time is a huge mistake." So if you are having trouble finding personal time to relax then schedule it! If this means splurging a little or taking a long weekend in order to recover then don't feel guilty! No one is suggesting spending your life savings for a month-long vacation, but a little R&R will improve your outlook at work and increase overall productivity.
So if you find yourself gazing out the window or daydreaming more than working, take some time to get away from the stresses of work and be sure to come back refreshed.
To check fees and availability on Ramit Sethi call Eagles Talent Speakers Bureau at 1.800.345.5607.
Go ahead … click the Eagle to get in touch with us.