Our latest YouTube series, "Women In Action" is inspired by Women's History Month. Every week, we will be celebrating powerful female speakers and their stories. This week features Sports Broadcaster, Speaker & Olympic medalist — Jessica Mendoza!
---
First Female ESPN Major League Baseball Analyst: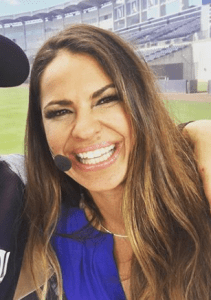 Jessica Mendoza has made history as a female Sports Analyst and Broadcaster over the years. It started on June 16th 2015 when she became the first female to sit in the booth as part of ESPN's College World Series coverage. She then became the first woman to work as an Analyst for ESPN's MLB coverage on the net's Cardinals-Diamondbacks broadcast.  That same week, Jessica was in the booth when Jake Arrieta of the Cubs pitched a no-hitter against the Dodgers during her Sunday Night Baseball debut.
Ever since Jessica was little, she was surrounded by baseball and football players because her father was a coach. She immersed herself into the sports world at such a young age, so it was no surprise when this natural environment encouraged her to move forward in a similar path as her father. The inspiration for her challenging career started after she was a four-time First-Team All-American Outfielder and led the Cardinals to their first ever Women's College World Series Appearance at Stanford. Jessica soon became a member of the U.S. Women's National Team.
From 2001-10, she won two Olympic medals. A Gold in Athens, 2014 and a Silver in Beijing, 2008. In addition to being a three-time World Champion (2002, 2006, 2010), she was also a World Cup Champion (2006, 2007, 2010). With her impressive background, Jessica has worked hard and fought for her spot on the field. She is an inspiration to females all over the world who fight to have their voice heard.
Her refreshing keynotes bring clarity to the misconceptions about women in male-dominated fields. Furthermore, her determination and confidence on stage continues to empower audiences–leaving them with a fresh new perspective.
Check out the video below to see for yourself!
---
---
First Female ESPN Major League Baseball Analyst, please visit eaglestalent.com or call 1.800.345.5607
---