In honor of Weight Loss Awareness Month, here is a recipe to help you get started on your weight loss journey from Health and Wellness speaker Dr. John La Puma.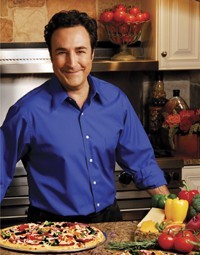 Ingredients
1 whole large organic turkey tenderloin or 2 small tenderloins (about 1 pound total)
1½ teaspoons 5-spice powder
4 teaspoons canola or grapeseed oil, divided
1 pound rapini (broccoli rabe), tough stems discarded, stalks and leaves cut into 1″ pieces
1 red bell pepper, cut into short, thin strips
8 ounces shiitake mushrooms, tough stems trimmed, caps thickly sliced
4 cloves garlic, minced
½ teaspoon crushed red pepper flakes
2½ tablespoons each: yellow miso paste and reduced sodium chicken broth
4 green onions, cut into ½-inch pieces
Preparation
Heat oven to 350°F. Sprinkle 5-spice powder evenly over all sides of tenderloin. Heat 2 teaspoons of the oil in a large deep skillet over medium heat until hot. Add tenderloin; lightly brown 2 minutes per side. Transfer tenderloin to a shallow baking sheet; bake until internal temperature of tenderloin reaches 165°F, about 20 to 22 minutes.
Meanwhile, heat remaining 2 teaspoons oil in same skillet over medium-high heat. Add rapini; stir-fry 2 minutes. Add bell pepper and mushrooms; stir-fry 3 minutes. Add garlic and pepper flakes; stir-fry 2 minutes or until vegetables are crisp-tender. Add miso paste and broth; cook 2 minutes or until sauce thickens. Remove from heat; stir in green onions.
Transfer vegetables to four serving plates. Slice tenderloin crosswise into ½-inch thick slices; arrange over vegetables. Drizzle any pan juices from baking sheet over turkey.
Substitutions
2 (4 ounce) packages sliced exotic mushrooms may replace the shiitake mushrooms and broccolini may replace the rapini.
If turkey tenderloin is not available, purchase a boneless turkey breast or turkey breast half, skin the turkey and cut into 1-inch chunks.
for more information on booking Dr. John La Puma for one of your events, check out his page on our website or call our office at 1.800.345.5607.