Eagles Talent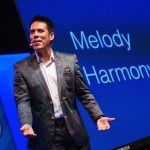 Speakers Bureau provides many wonderful clients, such as IBM, access to booking the perfect keynote speakers for their events. Recently, Keynote Speaker Freddie Ravel delivered a captivating presentation for IBM, prompting this review:
"Freddie is very open to shaping his program to meet the needs of his customer and his audience. He is diligent in ensuring that the program is the best it can be through conversations and rehearsals. He appeals to a broad range of ages and backgrounds. He is an outstanding pianist and performer and will keep your audience engaged until the end!" – IBM
This is just one of many rave reviews pertaining to the outstanding performances that Freddie Ravel delivers. As an all around talented individual, Ravel has worked with many big names in the music industry, including but not limited to: Earth, Wind & Fire, Madonna, Prince, and more. He is a Grammy nominated musical sensation who beautifully blends the art of many cultures together for the consumption of audiences around the world. In addition to IBM, he gives fascinating performances to clients such as Apple, NASA, Wal-Mart, and many more. 
As a speaker, he is internationally recognized for his presentations on peak performances and effective strategies. He utilizes his expert knowledge in music and uses it as a metaphor for success, collaboration, and change. 
For more information on booking Freddie Ravel for one of your events, check out his page on our website or call our office at 1.800.345.5607.